Sponsored content provided by

Five Countries to Watch
Africa's rapid growth is not affecting the continent equally. Here's a look at five African countries that represent some of the brightest spots.
In May 2000, The Economist magazine declared that Africa was "the hopeless continent." Eleven years later, in 2011, it referred to Africa as "the hopeful continent." And on October 20, 2012, the magazine stated: "In recent years investors have been piling into Lagos and Nairobi as if they were Frankfurt and Tokyo of old."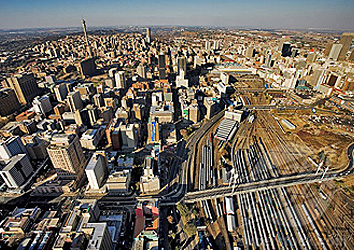 Clearly, gloomy skepticism has given way to glowing optimism about Africa, and for good reason—over the past 10 years, many of the economies within Africa are outpacing economies anywhere else in the world. In fact, according to the International Monetary Fund's (IMF) World Economic Outlook released in October 2012, 11 of the world's 20 fastest-growing economies are in Africa, and this booming economic growth has helped create the fastest-growing middle class in the world.
Of course, the major trends driving this growth—changing policy environments, a growing middle class that expects equitable social and economic policies, high commodity prices, robust domestic demand, and rapid mass urbanization—have not affected all countries on the continent equally. Here's a quick look at five economies that have especially benefited from recent developments, and those that pose some of the best potential for the future.
1. South Africa: The Continent's Largest Economy
Africa's southernmost country has a mature economy with strong industrial, financial, and transportation sectors. With GDP estimated at $408 billion and per capita income estimated at $11,000 for 2012, the country sits firmly in the World Bank's Upper-Middle-Income category, along with Brazil and China. In 2010, South Africa joined the BRICS (Brazil, Russia, India, China and South Africa), an association of top emerging economies distinguished by their fast growth and burgeoning influence in regional and global matters.
Despite its developed infrastructure and abundant natural resources, South Africa does face challenges in the areas of governance and inequality. Protests, strikes, and instability have hindered foreign investment in the country. And compared to Africa's Middle-Income Economies—or MICs, as defined by the World Bank—South Africa's 2.6% economic growth rate is sluggish. (This has partially been because closer ties to the global economy and substantial exposure to the Euro zone mean South Africa has been more affected by the global economic slowdown.)
That said, the country is a major regional powerhouse. It has large investments in neighboring countries. And South African companies—particularly its financial services, retail, fast food, supermarket, service station, and textile firms—are flooding the continent with consumer goods and services. This has given the country an outsize influence on the continent, and a firm stake in the success of economies across Africa.
2. Nigeria: A Waking Giant
Nigeria, in West Africa, tops most lists of African countries to watch over the next decade. Traditionally known as "the sleeping giant of Africa," the country has a huge population of more than 167 million, over 50% of which lives in urban areas like Lagos and Kano. According to the state-run Nigeria National Petroleum Corporation (NNPC), Nigeria is Africa's largest oil producer, exporting 2.5 million barrels per day. Economically, it has registered a solid 7 % growth rate for the last decade, and politically, with its second civilian transfer of power in less than a decade, the country has begun to consolidate its democratic reforms.
In many ways, Nigeria's current status resembles that of Brazil before political and social reforms turned around its economy in the 1990s. Nigeria may be able to replicate Brazil's success by adopting similar policies, including investing in infrastructure, reducing poverty and inequality, and reforming institutions.