The Yogurt Chronicles
Siggi's builds a niche market from an ancient Icelandic recipe.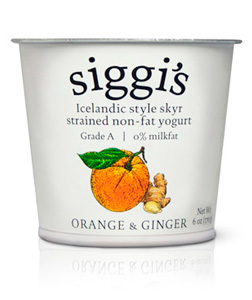 In late 2004, Icelandic native Siggi Hilmarsson was a miserable Deloitte consultant working in Manhattan. Craving the comforts of home during his first Christmas away, he made skyr, Iceland's yogurt, in his Tribeca kitchen.
More than five years later, Hilmarsson's Icelandic Milk & Skyr Corp. supplies Whole Foods, Wegman's, and Stop & Shop and boasts nine employees plus about 350 cows from six family farms. In July, private equity firm Revelry Brands acquired a minority stake in the company.
While most upstarts struggle to find customers, funding, and revenue, Hilmarsson stumbled onto all three almost seamlessly. It's a rare little-guy economy tale in a $4.1 billion yogurt market with dozens of brands that tout so-called benefits ranging from "lite" to "fat-free." Perhaps most repellent is Dannon's Activia, which, known for its $100 million ad campaign featuring Jamie Lee Curtis, supposedly "helps regulate your digestive system." But the counterintuitive rise of the skyr company, which as of March took in an estimated $560,000 in annual sales, shows that a pricey, understated new product can grab market share, albeit a relatively small one, in a crowded, consumer-driven field. In the age of corn-syrup-infused foods, shoppers simply wanted this pared-down, no-frills yogurt.
The high demand begins and ends, of course, with Hilmarsson, who, like a conductor, orchestrated the arrival of siggi's, the company's premium yogurt. A Columbia Business School graduate, he consulted articles from Iceland and food science textbooks and became a skyr scholar overnight. Skyr is a thousand-year-old Scandinavian staple, a thick, strained, high-protein yogurt. He first made skyr the old-fashioned way: by boiling the milk, keeping the pot warm at about 100-110 degrees, adding the cultures, incubating it, and then straining it. "Some of the first batches were awful," said Hilmarsson, a lanky, 6-foot-5 fellow with shoulder-length hair and a beard, in his 11th floor office on 26th Street. On vacation, he went upstate to a test dairy facility at Morrisville State College and perfected his skyr. In startup-speak, he had a minimum viable product.
Success is never preordained in the little-guy economy, and it certainly wasn't in Hilmarsson's case. But after his friend Liz Thorpe, the cheese expert and Murray's vice president, casually planted the yogurt before the specialty store's buying committee, which wanted to stock it right away, Hilmarsson knew he was onto something. He turned to Columbia Business School professor Michael van Biema—who offered less than $50,000 in seed capital—quit his job, and began searching for a dairy plant in upstate New York.
The product couldn't be stopped. siggi's sold out the first day it appeared at Murray's. Even more remarkable, the next morning, when the siggi's truck arrived late, several people were waiting for their skyr. Hilmarsson had found a tiny family farm in Norwich, N.Y., with an underused plant that had been producing cheese, yogurt, and goat's milk for several years. By then, the summer of 2005, he was producing 200 cups of yogurt a week. But, step by step over the next few years, more and more people wanted siggi's, and soon Hilmarsson was selling yogurt to Dean & Deluca and Bouley Bakery.
It was a feat. In less than one year, Hilmarsson negotiated New York state agricultural laws, found a milk supply that met his criteria, learned what equipment was needed to make skyr, figured out where to buy it, and got funding. "You wouldn't believe how many people call me and say, 'I want to open a cheese shop' and don't know anything and haven't done any research," wrote Thorpe in an e-mail.