The Boss With No Office
Is it good for workplace culture when management sits with employees?
When I first met Jack Dorsey, the billionaire co-founder of Twitter, he was working on his new project, Square—the post-Twitter venture he'd launched in an effort to disrupt the payments industry. I'd come to interview Dorsey for a magazine profile, and when I walked into Square's San Francisco office space I immediately spotted him. He was impossible to miss. He worked standing up, typing on an iPad at a navel-high table in the dead center of the open-air floor plan.
When we imagine a powerful CEO, we typically picture a secluded corner office large enough to fly a kite in, with thick wood paneling, plush pile carpets, and a gatekeeping assistant—all designed to dampen the intrusion of any exterior stimuli. But a newer vision of management feng shui involves an emphasis on availability, transparency, and the abolishment of physical hierarchies. "My door's always open," that old, sometimes insincere invitation to underlings, somehow seems more deeply earnest when there isn't any door at all.
"I'm much more accessible this way," Dorsey told me of his setup. "People can come right up to me and ask me questions if they need to." Dorsey's not the only corporate leader to favor a vulnerable work posture. Observe, in this photo of the offices of the website Business Insider, CEO Henry Blodget mimicking Dorsey's tall-tree-on-the-plains workstation style.
There are countless ways for managers to shape the psychological environments of their employees. Designing the physical workspace may be easy to overlook as a means of dictating corporate culture, but it is in some ways the most fundamental of management choices. The tenor of meetings, the ease of collaboration, and the frequency of serendipitous colleague interactions can all be deeply affected by the landscape of an office.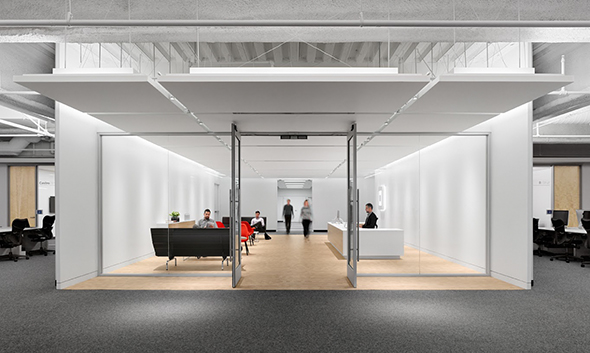 Bloomberg, the financial data and media company founded in 1982 by Michael Bloomberg, is a case study in the integration of corporate mission and corporate headquarters. Bloomberg's lucrative proprietary finance software was launched with an eye toward creating more transparency in markets, and so the company's offices are meant to elevate transparency as a goal. "Ours is an open plan layout," Michael Bloomberg wrote in his 1997 book Bloomberg by Bloomberg. "As is true with markets, transparency produces fairness."
To tour the Bloomberg offices in Midtown Manhattan—within a 2005 building designed by Cesar Pelli—is to witness the open plan aesthetic taken to its logical extreme.* Row upon row of workstations fan out along endless tables in massive atriums with nary a divider to break up the space. On the rare occasion when some sort of partition becomes necessary (for example, to delineate a conference room) the favored material is clear glass that may block noise but does not obscure vision.
Even top-level employees work out in the open. On a recent visit, Chairman Peter Grauer and CEO Daniel Doctoroff could be seen taking meetings in the conference rooms directly behind their desks. Any passerby could observe who had joined the meeting and how long they stayed, and if one were so inclined one could even assess body language clues to get a sense of how things were going. When at their desks, Grauer and Doctoroff are seated just off the main lobby area on the building's sixth floor, easily accessible to anyone walking through.
That sixth-floor area—known as "the link"—is a purposeful means of creating forced interaction. Every Bloomberg employee and visitor is initially routed through this space (which coincidentally contains Bloomberg's legendarily free and bounteous snack bar), before continuing on to a final destination. Whether you work on the fifth floor or the 23rd, you must first go to the sixth and catch an escalator or elevator from there. All workers great and small pass through the bustling environs of "the link," and the many buzzy conversational clumps there attest to its effectiveness as a watering hole.
Even after making it to the sixth floor, taking an elevator may not be the end of your journey—or your face-to-face encounters. Those elevators don't stop on every floor, which necessitates further gathering spaces as employees disembark before heading one or two more floors up or down. Employees at Bloomberg marvel at how often they randomly bump into each other throughout the day, making it easy to informally check in on projects and plans.