Hungry for Savings
Walmart donates billions to anti-hunger initiatives. Some of those efforts benefit its own employees.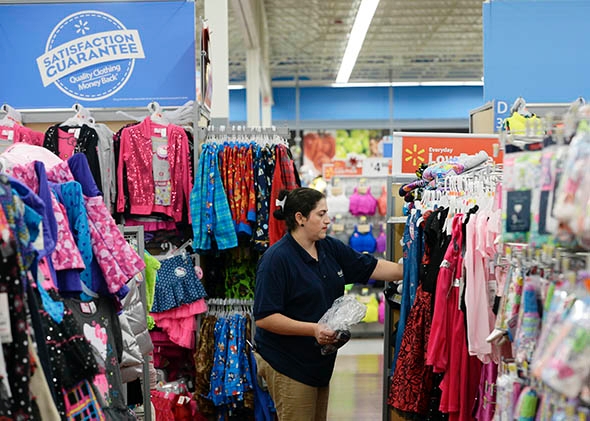 This is the third and final part of the Marketplace series "The Secret Life of a Food Stamp." You can listen to the series here.

Karrie Denniston is standing in the meat department of a Walmart Supercenter peering at the sell-by dates on a stack of pork chops. Denniston, director of hunger relief and nutrition programs at the Walmart Foundation, is at Walmart's "Store 100," the showcase Supercenter across the street from company headquarters in Bentonville, Ark. Store 100 is one of thousands of Walmart locations where the company collects billions of pounds of vegetables, dry goods, and other items for its food-donation program. Every day, as part of its anti-hunger initiative, Walmart associates scour the shelves looking for food that falls into a donation sweet spot: just past its sell-by date but still safe to eat.
Walmart—which in 2012 made a five-year pledge to donate $2 billion in cash and food to fight hunger—works with local food banks to distribute the meat, in a system of carefully temperature-controlled steps. Denniston holds up a family pack of pork chops. If no one buys it before its sell-by date, "that meat may end up as part of a stew at a local soup kitchen, or it may end up being distributed at a food pantry to a mom so that she can make tacos for her kids," she says.
Some of Walmart's donations end up on the shelves of the Lutheran Social Services food pantry in Columbus, Ohio. "Walmart, Save-a-Lot, Giant Eagle, Kroger, they all send a lot of food back here," volunteer Jordan Moore says. The donations are "a blessing," he says.
But there can be moments that throw him. Recently, a shopper at the food pantry took an item off a shelf and told Moore, "I put this on the shelf, too." The shopper was a Walmart worker.
"It's this cycle that keeps going around and around," says Jason Elchert, deputy director for the Ohio Association of Foodbanks. "We need to take a deep breath and think about how can we move our country forward." Elchert says that over the past few years more and more working people in need of food assistance have been showing up at the charities his group serves. These include workers whose food stamps have run out before the end of the month as well as people who still can't make ends meet even though they make too much to qualify for government food assistance. (The Supplemental Nutrition Assistance Program, the formal name for food stamps, has an annual gross income cap of just under $25,400 for a household of three.)
Like many anti-hunger advocates who receive donations from corporate retailers known for low wages, Elchert is in a tricky spot when it comes to addressing the paradoxes of the food stamp economy. His group gets financial support from Walmart and other food retailers. "When we're talking a lot with corporations," he says, "it's one of those situations where, well, let's talk about this in some way where we're not offending them."
Matt Habash, president of the Mid-Ohio Foodbank—which has representatives from retail companies including Kroger and Giant Eagle supermarkets on its board—has tried to broach the issue of low wages with his corporate supporters. At a recent board meeting, Habash brought up the idea of promoting a living wage as part of the food bank's mission. "Some of the folks in that room were employers who knew their wages were not" living wages, Habash says."They were willing to engage in the conversation," he says. "But no one employer can do it on their own."
Wages might be a sensitive issue to tackle, but there is one cause many big retailers have already come together on: protecting funding for SNAP. The program, which gives low-income families an average of $130 a month in food assistance, is lucrative for stores; food stamps accounted for $76 billion in store revenue in 2013.
But spending on the program has become the subject of protracted debates in recent years as food stamp rolls have soared, largely in response to the poor economy. Congress voted earlier this year to cut $8 billion from SNAP over the next decade, after House Republicans gave up their fight for much larger cuts (that would have reached nearly $40 billion).