Making a Killing
Military veterans are clamoring to teach the art of war to businesspeople.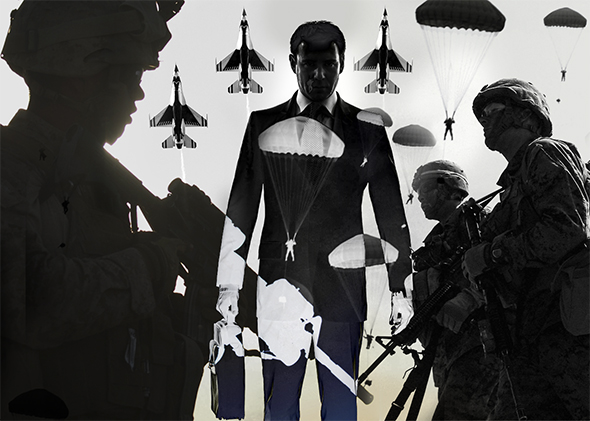 In the fusty grand ballroom of Philadelphia's downtown Hyatt, Patrick "Lips" Houlahan—fighter pilot, consultant, and motivational speaker—strides across the stage in his olive green flight suit, doing his damnedest to rev up a crowd of sleepy-looking business executives. He's already been introduced with a video of military jets zipping around to a speed-metal soundtrack, which blasts enough bass to make you worry about the structural integrity of the enormous chandelier dangling overhead. Now, Houlahan is quizzing an audience member about the flight scenes in Top Gun.
According to Houlahan, those scenes are BS. Fighter pilots don't casually chat like Maverick and Iceman while flying jets that cost tens of millions of dollars. They try to keep focused on the task at hand while subjecting their bodies to the physical punishment of extreme G-forces. Another video clip shows pilots in air combat training, gasping through their oxygen tubes while craning to see each other out of their cockpits.
"He's practically popping every vertebrae out of his neck—to keep track of what?" Houlahan asked. The crowd murmured a bit. "That's right," he finished, "the competition!" More murmurs, this time of recognition: If you're in charge of, say, sales at a midsize medical supply company, keeping an eye on the competition might seem like a goal worth popping a vertebrae for.
Houlahan, who got the call sign "Lips" during flight school, had come to the day's conference as an emissary from Afterburner, a quirky consulting firm made up largely of trained fighter pilots just like him. I had gotten in touch with the company to learn about the somewhat shticky but oddly intriguing cottage industry of military veterans who make their living teaching companies the modern art of war—or at least, the art of meticulously planning for it.
Comparing the corporate world to a battlefield is, of course, a tried and trite habit of business pros the world over. But it turns out some management consultants make good money bringing real military strategies and processes to the boardroom.
In its first issue back on stands, for instance, Newsweek profiled the McChrystal Group, the small firm co-founded in 2011 by ex-General Stanley McChrystal, who was fired from his job leading the war in Afghanistan after he and his staff were quoted in Rolling Stone mocking their civilian command. The company takes the lessons McChrystal and his compatriots learned hunting down al-Qaida and teaches them to businesses facing upheaval in their industry.
Afterburner, meanwhile, was founded in 1996 by Air Force veteran Jim "Murph" Murphy. Its team of 50 speakers and consultants includes a scattering of SEALs and special operations vets who preach the firm's gospel of "flawless execution," a process for planning and operations management, to clients that have included the New York Giants as well as Fortune 500 companies, such as PepsiCo and Shell.
Especially if you have an aversion to military- or corporate-speak, both companies can come off as a tad over the top. In the Newsweek piece, McChrystal Group co-founder and CEO David Silverman managed to compare the military's fight against al-Qaida to the music industry's struggle against Napster, seemingly with a straight face. Afterburner's team-building seminars often start with jumpsuit-wearing pilots barging into a conference room and shouting into bullhorns that the client's employees are now at war; the participants are then rounded up into a strategy session, during which they plan a mission for the company.
Beyond the overcooked analogies and war games, though, both companies offer something serious. The military is, of course, a hugely complex bureaucracy that specializes in training and logistics; its innovations laid the groundwork for some of what now gets taught in business schools today. The field of operations research—essentially, using scientific and mathematical methods to solve management problems—was pioneered by Britain's Royal Navy during World War II, then spread to the U.S. military and beyond. Today, the University of Pennsylvania's Wharton School of Business sends MBA students to the U.S. Marine Corps Base at Quantico twice a year for leadership training.
What veterans "are really great at is taking really complex systems and boiling them down to their key nodes or pathways, so they can execute extremely efficiently," said Preston Cline, Wharton's director for leadership venture in the Graduate Leadership Program. "And the reason for that is, if they fail, their friends die."