How Douching Is Like Dial-Up
Summer's Eve seeks to reinvent its brand.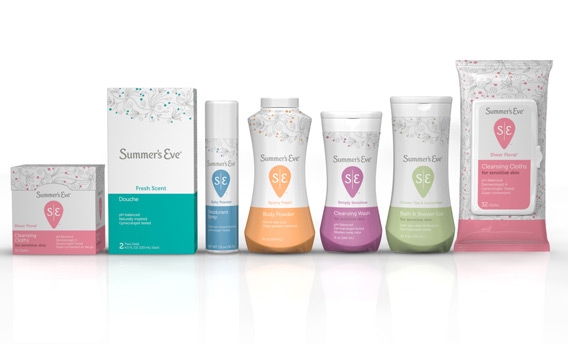 Douching is in decline. Back in 1985, according to the National Survey of Family Growth, 37 percent of American women aged 15-44 regularly douched. By 1995, that number had fallen to 27 percent. And in a 2006 study of women 18-44, it was less than 12 percent.
If you're the American College of Obstetricians and Gynecologists, this is terrific news. Most doctors recommend that women don't douche. Douching can upset the natural balance of bacteria in the vagina and it is associated with various reproductive health problems.

If, however, you are the C.B. Fleet Company—the 142-year-old manufacturer of the category-leading Summer's Eve brand of douches—this is flat-out terrible news. Younger women basically don't douche at all and have been advised by trusted authority figures never to start. What can Summer's Eve do, saddled with a flagship product that's fallen permanently out of favor?
For the answer, flip on your dial-up modem, plug it into your phone jack, and endure those shrieky-beepy noises as it sloooowly connects to the Internet. Wait, what's that you say? Nobody uses dial-up anymore? Tell that to AOL, which just reported $192 million in Q3 revenue from its dial-up services. AOL still has tons of subscribers. It's just that their numbers are dwindling—to the tune of a 22 percent year-on-year decline. Dial-up is drowning, but it's not quite dead. And faced with a lucrative core product that is steadily sliding under the waves, AOL has been attempting a daring switcheroo: It's taking the cash from those dial-up subscriptions and plowing it into a grand effort to become a content company—which explains its $315 million purchase of the Huffington Post, its $30 million acquisition of TechCrunch, and its substantial investments in the Patch network of local news sites.

Douching, I would argue, is a lot like dial-up. Uncool. On the wane. Never coming back, and with good reason. Yet, for the moment, still profitable.
Plenty of women continue to douche. Particularly older generations and minority women—that 2006 study found that 27 percent of African-American women and 15 percent of Hispanic women regularly douche, as compared to only 9 percent of white women. But Summer's Eve can see the writing on the vaginal wall.

And so, in what is proving to be a fairly canny maneuver, Summer's Eve has shifted its focus to what Bryant terms "external cleansing and freshening products." These washes, wipes, and sprays have been around since back in the 1980s, but for most of their existence had comprised only 30 percent of Summer's Eve's revenue while the other 70 percent came from traditional douching products. (A quick primer: Douching means using a bulb and tube to spray some sort of liquid solution directly onto the interior of the vagina. Historically, motivations for this act have included concerns about cleanliness and odor as well as a misguided conviction that douching after sex will prevent pregnancy.)