The 2015 Slate Gift Guide
Let the Slate staff help you pick out the perfect gift for everyone on your list.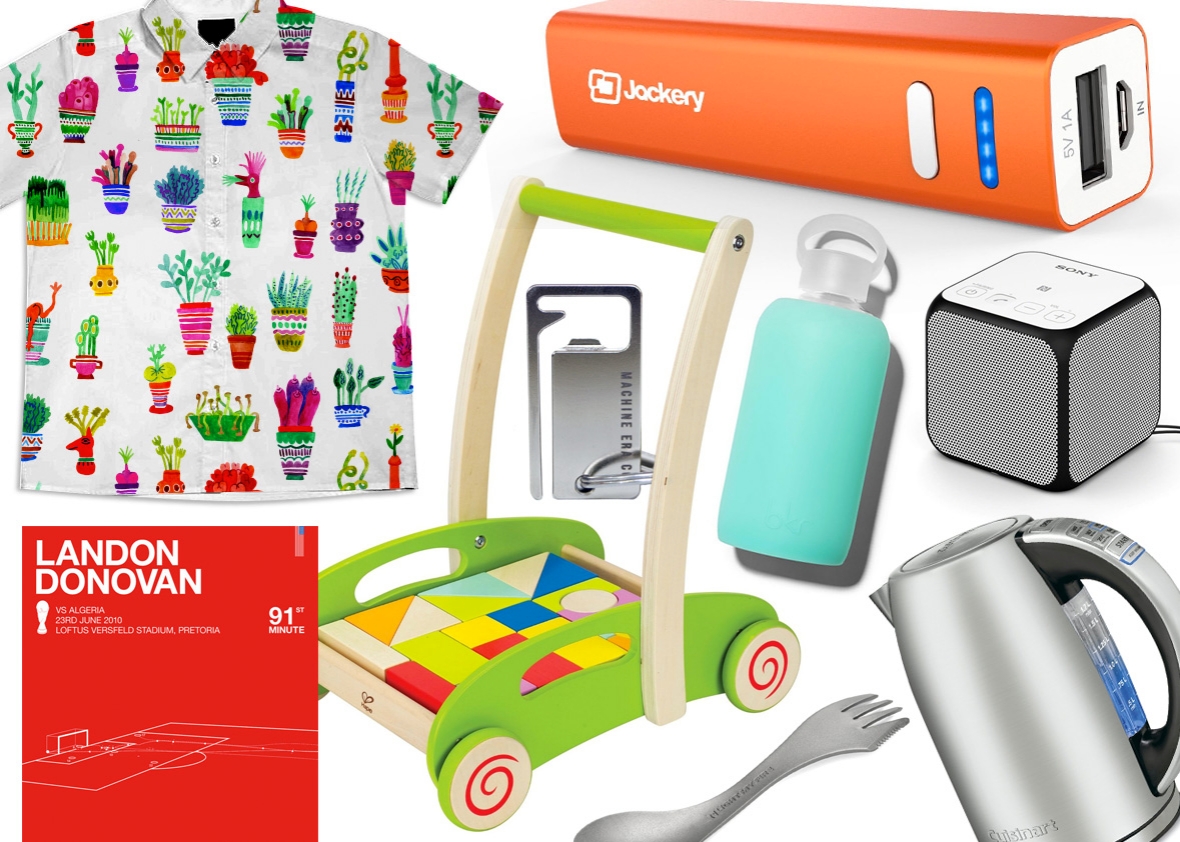 Throughout the year, Slate staffers recommend to Slate readers a host of products they've enjoyed, from books and songs to socks and toilet seats. But these recommendations can be a little hard to track down come holiday season, when you're frantically racing to scratch everyone off your list. So we decided to tap into the recommending acumen of our reporters, critics, podcasters, and editors, and to organize all of their seasonal suggestions in one, convenient place: the 2015 Slate Gift Guide.
To elicit these gift ideas, we asked the entire Slate staff a simple question: What is the product, of any kind, that most improved your life in 2015? The responses, we think you'll agree, are delightfully eclectic. Hanna Rosin picked a titanium spork. Laura Miller picked a set of cookie cutters with a Pride and Prejudice theme. June Thomas picked a fountain pen. Julia Turner picked a meat thermometer.
There are 76 suggestions in all, in a range of product types, price points, and ideal recipients, from baby to grandpa. Each Slate staffer has also offered a (very) short endorsement of the product they selected: This is efficient, worry-free shopping.
We've published the gift guide on Slate Picks, the section of the site where we point readers to products we think are worth their time and money. While you're over on Picks, spend some time browsing the other collections, like the one Slate history columnist Rebecca Onion wrote about her favorite coffee table books of 2015. If there's a history buff on your list, that problem has just been solved.
A reminder: Slate is an Amazon affiliate; when you click on an Amazon link from Slate, the magazine gets a cut of the proceeds from whatever you buy. Slate has similar affiliate relationships with other retailers, including Fandango, ThinkGeek, Zappos, Brookstone, Pottery Barn, and Pottery Barn's related stores. Many of the products you see in the gift guide will generate revenue for us if you buy them—and many of them won't. We selected these items because they sparked joy—to borrow a phrase—for us. We think they'll do the same for you and yours.