Slate Is Hiring an Interactives Editor
Come work with us.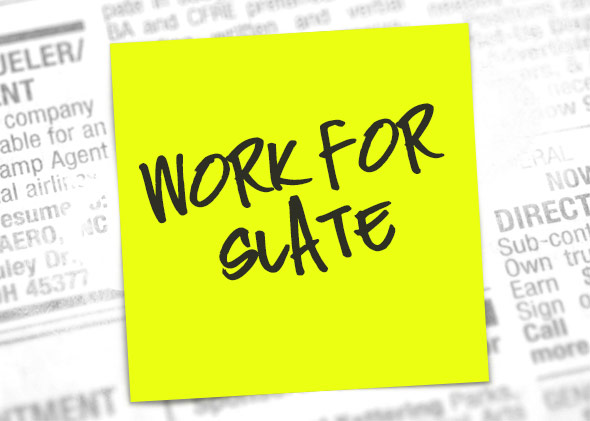 Slate is hiring an assistant interactives editor. Ideal candidates will be smart, funny, and energetic, and will bring a passion for both journalism and computer science. Interactives are a vital part of Slate's journalism. Our projects take on a variety of topics and tones, and range from charts and maps to games and puzzles and custom-built interactive tools. Some of our pieces, like the John Travolta Name Generator, Great Gatsby Game, and Game of Thrones Graveyard, make our readers laugh. Others, like the Gun Deaths project and Creationism in Schools Map, make them rethink an important issue in the news. Many, like the Gerrymander Jigsaw Puzzle and the 2014 Outrage Calendar, do a little bit of both.
Candidates should have a solid grasp of Excel, HTML, CSS, and Javascript, as well as sharp news judgment, strong writing and editing skills, and a knack for coming up with smart, surprising, ambitious ideas. Experience with JavaScript libraries like jQuery and D3, mapping applications like TileMill and QGIS, and languages such as PHP, Ruby, Python, and Node are all a plus.
The position is full time, on staff, with benefits. Slate welcomes candidates from all backgrounds. The position is located in Slate's New York office. The deadline for applications is March 17 at 5 p.m. ET.
To apply for the assistant interactives editor position, click here.