So Are the Neanderthals Still Jews?
And other revelations culled from history's big secrets.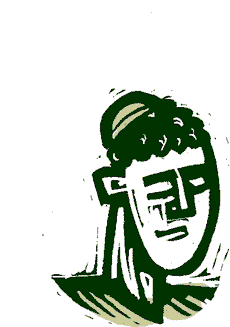 The Jews are Neanderthals. Advanced in this decade by heretic anthropologist Stan Gooch, who has also argued that the original, full-blooded Neanderthals were telepathic. The thesis was taken up last year by Canadian Michael Bradley in his incoherent book Chosen People From the Caucasus. Bradley is known for a book-length rant titled The Iceman Inheritance, which identifies the origins of white racial evil in prehistoric psychosexual tensions of some sort. Chosen People is an extension of his ideas: Biblical evidence that Jews are Neanderthals includes the Esau incident (Esau is hairy, remember?). The reason Jews have an injunction against portraying God is that Neanderthals cannot draw. However, Bradley adduces evidence that they were quite good with numbers and were overly sentimental about their mothers. Interestingly, Bradley also believes that modern European Jews are Khazars, which means he must argue not only that biblical Hebrews were Neanderthals, but that so were Khazars. He actually does so. News that Neanderthals have little in common with modern humankind should be welcome to admirers of Bradley's work. Among his blurbists, by the way, is Dr. Leonard Jeffries, of New York's City College.
"It is not my intention to give anti-Semitism any support whatever," wrote Marc Dem, as he argued that Jews were from outer space. Certainly not. Arthur Koestler wrote the same thing in his Thirteenth Tribe, stating that if most of the world's Jews come from the Volga region, then "anti-Semitism will become void of meaning." Sure. We're all out here just looking for the Truth. And no matter where we look for it, over our shoulders among the hominids of prehistory, or out on the interplanetary horizon, we can find whatever Truths we're looking for: Those that set us free, and those that prove us mad, too.