Archer, Season 4
The sexy, awful superspy returns to FX.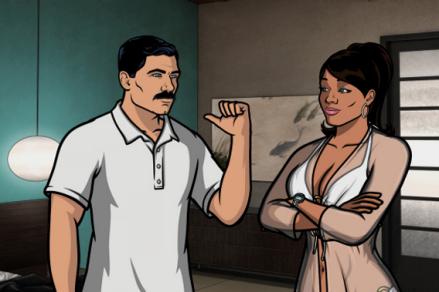 A couple of years ago, in one of our weekly Slate culture meetings, an editor suggested that we run an assessment of the FX Network. The idea, as I remember it, was to figure out to what extent FX was becoming one of the new powerhouses of original cable series, in the same class as, say, AMC. At the time, we could only point to Sons of Anarchy as an example of FX's dramatic programming successes, so the story was canned.
Archer, which returns for Season 4 tonight at 10 p.m., is one of the linchpins of an FX comedy lineup that rivals some of best network sitcom schedules ever constructed. The show is regularly described as a cross between James Bond and Arrested Development (that is how creator Adam Reed pitched it to the network). But the Bondian aspects of Archer are really more just beautifully constructed background setting. Thematically and aesthetically, its resemblance to Arrested, or Dan Harmon's Community, is the strongest comparison. Like both of those shows, Archer is driven by an amazing ensemble cast. This group is spearheaded by Jessica Walter essentially playing Lucille Bluth if Lucille Bluth ran a spy agency and legendary voice actor H. Jon Benjamin as the alcoholic, perverted—yet shockingly effective—titular super-spy.
Advertisement

When we last saw our beloved ISIS, they were returning home from a mission to the International Space Station that went horribly awry when mutinous astronauts tried to kidnap the team for a rogue campaign to colonize Mars. Fortunately, the agents escaped unharmed, and even managed to strand Sterling's arch-nemesis, cyborg-Barry, on the space station by incinerating his ship.
The Season 3 finale was one of the cooler, more outrageous settings on a show that specializes in awesomely wacky locales. It also stretched Archer's beloved contrivance of bringing every single character on nearly every single mission—including, contrary to all logic, human resources head Pam (Amber Nash) and secretary Cheryl (voiced by another Arrested alum, Judy Greer)—to the brink. And though the episode was a far cry from the bleak Season 2 finale in which Archer's fiancée was murdered before his eyes, it maintained a dark undercurrent that has come to make Archer one the most subversively funny shows on TV. For the next few months, I'll be chatting with different Archer fans and critics to discuss each week's plot developments, inside jokes, and general goofiness. I'm very much looking forward to it. Or as Pam would say: "Sploosh."
TODAY IN SLATE
Politics
Talking White
Black people's disdain for "proper English" and academic achievement is a myth.
Operation Backbone
How White Boy Rick, a legendary Detroit cocaine dealer, helped the FBI uncover brazen police corruption.