Homeland, Season 2
How Carrie Mathison is like 24's Jack Bauer.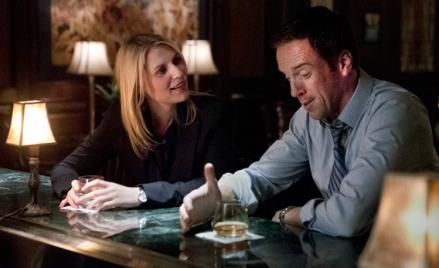 One thing is clear from the response to this week's episode of Homeland: Critics love a game-changing plot twist. New York's Matt Zoller Seitz began his Vulture recap, "Faith in Homeland: restored," while Time's James Poniewozik said the show has "played cards that I didn't expect it to play until later in the season or the series. … Now, just as it set up a scenario that I might well have expected to take up the bulk of the season, the investigation and surveillance of Brody, it springs his exposure and arrest. Cautious, this season so far is not."
Admittedly, there was some carping in the Slate comments about the motivations for those expectation-upending events. Swansburg (a familiar figure) asks: "Why would Carrie have thought that her breaking down when questioned about electro-shock gave her away? … It was bizarre that she'd assume that her slightly emotional reaction to that sensitive topic would mean that Brody would assume that she had evidence that he was a terrorist."
I agree—I didn't see any evidence that Brody really was onto the merry band of watchers—but Homeland repeatedly presents Carrie as a superspy, able to make connections that people with more balanced brain chemistry miss. And as BriefWit also points out in the comments, this is a commonality between Carrie Mathison and Jack Bauer, the lead in Alex Gansa and Howard Gordon's earlier show, 24. In both, "viewers and other characters are implicitly or explicitly told by Carrie/Jack 'Trust me, I'm right' ... and they almost always are, despite there being no empirical evidence to anyone else suggesting such at the time."
Advertisement

Or perhaps Carrie just wanted to get close to Brody again. Lots of critics raved about the relationship between the two leads. Salon's Willa Paskin gushed that "[L]ove, the possibility that real love could still exist between Brody and Carrie, is the crazy, implausible miracle at Homeland's heart. … Brody and Carrie are drawn to each other as strongly and surely as moths to the bug zapper." And at ThinkProgress, Alyssa Rosenberg noted that, "The attraction between them has always been about a wanton destruction of boundaries, be they professionalism, operational protocols, the vows of marriage, the need for secrecy about Carrie's mental illness and Brody's conversion to Islam. Throwing up a wall between them … is an invitation to tear it down." Or as Grantland's Andy Greenwald, put it: "The only thing that's blown up in that hotel room is every last shred of audience expectation."
TODAY IN SLATE
History
Slate Plus Early Read: The Self-Made Man
The story of America's most pliable, pernicious, irrepressible myth.