The Audio Book Club on Nicholson Baker
Our critics discuss The Anthologist.
To listen to the Slate Audio Book Club discussion of Nicholson Baker's The Anthologist, click the arrow on the player below.
You can also download the audio file here, or click here to subscribe to the Slate Audio Book Club feed in iTunes.
Get your 14-day free trial of Audio Book Club sponsor Audible.com, which includes a credit for one free audiobook, here.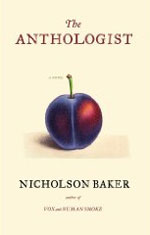 This month, the Audio Book Club tackles Nicholson Baker's new novel, The Anthologist. It concerns Paul Chower, a middle-aged writer living in Portsmouth, N.H., who's trying to finish an introduction for a poetry anthology that extols the virtues of rhyme. Readers of literary magazines will take special interest in this novel, which references many contemporary poets and critics. But Chowder's musings on poetics, writer's block, and the writing life should entertain the general reader, too.
Slate's Audio Book Club now comes to you on the third Monday of every month. Our selection for November is the Library of America edition of Raymond Carver's short stories. (We'll be discussing one or two stories in particular.) Look for our discussion on iTunes or on the Slatehomepage on Monday, Nov. 16.
You can also listen to any of our previous club meetings through our iTunes feed or by clicking on the links below *:
Questions? Comments? Write to us at podcasts@slate.com. (E-mailers may be quoted by name unless they request otherwise.)