The Audio Book Club on Barack Obama
Our critics discuss The Audacity of Hope.
To listen to the Slate Audio Book Club on Barack Obama's The Audacity of Hope, click the arrow on the player below.
You can also download the audio file here, or click here to subscribe to the Slate Audio Book Club feed in iTunes.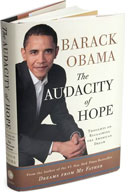 The Audio Book Club returns with a spirited discussion of Barack Obama's The Audacity of Hope: Thoughts on Reclaiming the American Dream. Slate critic-at-large Stephen Metcalf, culture editor Julia Turner, and chief political correspondent John Dickerson compare Obama's authorial voice with the cadences of Obama the candidate. Is Obama too complicated for presidential politics? Which parts of the book soar and which fall flat? Is The Audacity of Hope just another campaign memoir? The 65-minute conversation explores these and many other questions.
If you'd like to get an early start on the next book-club selection, we've chosen Dennis Johnson's novel Tree of Smoke, which recently won the National Book Award for Fiction. Watch for—and listen to—our Audio Book Club about Tree of Smoke in late December.
You can also listen to any of our previous club meetings by clicking on the links below *:
Questions? Comments? Write to us at podcasts@slate.com. (E-mailers may be quoted by name unless they request otherwise.)
* To download the MP3 file,right-click (Windows) or hold down the Control key while you click (Mac), and then use the "save" or "download" command to save the audio file to your hard drive.