Listen to Our July Music Roundup
Our official monthly Spotify playlist exclusively for Slate Plus members.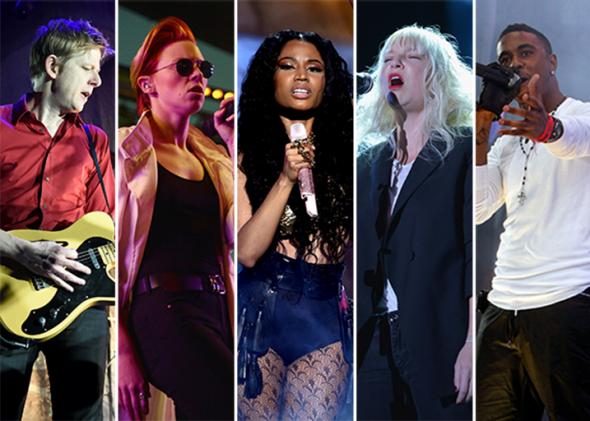 But if you love music, you want more. To help, we're creating a monthly Spotify playlist exclusively for Slate Plus members. Here, we'll not only catch you up on the best songs you might've missed that month on Slate, but staffers will share a few favorites we might not have covered—yet.
Jessie Ware, "Tough Love"
Stream | Download
Though it's been a couple of years since Jessie Ware released new music, she's hasn't missed a beat. In fact, with "Tough Love," the first single from her upcoming sophomore album, she's in top form, adding a breathtaking new tone to her already rich vocals. — Dee Lockett, editorial assistant
Advertisement

MNEK, "Wrote a Song About You"
Stream
MNEK's new song has been stuck in my head for weeks, and I don't ever want it to go away. The 19-year-old Brit serves up some true summertime sadness on this one, but I don't see how anyone could stay down while listening to a jam like this. — Lindsey Underwood, social media editor
Perfume Genius, "Queen"
Stream | Download
Immediately upon hearing this new song from Mike Hadreas' music project Perfume Genius, I named it the gay anthem of the year. It's a bold declaration of owning your sexuality, whatever it may be, that defies the societal pressures to do the exact opposite. And there's an electricity in those psychedelic synths that's just intoxicating. — Lockett
Sia, "Free the Animal"
Stream | Download
At once one of the weirdest and most intoxicating songs on the very weird and very intoxicating 1000 Forms of Fear, "Free the Animal" combines the best of the album's accessibility (it has one of the album's most up-tempo choruses) with some of its oddest touches (including vocals chopped up and digitally manipulated in the style of Britney Spears' most avant-garde work). Sure, with its consistently hysterical tone, it can't quite match the drama of the soaring highs and crushing lows of "Chandelier," still one of the year's best singles. But, while it's early, I think it's safe to say this track has a lock on best xylophone solo of 2014. — Forrest Wickman, staff writer
Jeremih and Shlohmo, "Let It Go"
Stream
Shlohmo and Jeremih are a match made in a dark, moody heaven. The new track off their collaborative No More EP is one of my early favorites from the album, which just dropped this month. You can download it for free here. — Underwood
Chris Malinchak ft. Mikky Ekko, "Stranger"
Stream | Download
I love it because of the incredible Michael Jackson and disco vibes this song gives off. It feels very summery and is my own choice as a serious song of summer contender. — Aisha Harris, staff writer
Full Crate, "Falling Off"
Stream
Ever since 2012's Magic Mike breathed new life into "Pony," a new generation of producers have been remixing Ginuwine's humptastic ode to grinding. But none have come close to this syrup-drenched synthy version from Amsterdam's Full Crate. — Derreck Johnson, Web designer
Nicki Minaj, "No Flex Zone (Remix)"
Stream
There's been a lot of talk this month about Weird Al, but for my money some of July's best one-liners came from Nicki Minaj. "No Flex Zone" finds Minaj rattling them off in rapid-fire bursts that range from the intricate (an extended metaphor about sonning her competitors by literally birthing them—only to abort them) to the goofy ("Bitch, I've been hot since flip phones"). In the last couple of weeks, a lot of different rappers have taken their own cracks at besting Minaj on this Mike Will Made It production, but, to paraphrase Rae Sremmurd's hook, they should know better. — Wickman
Sharon Van Etten, "Our Love"
Stream | Download
I love everything Van Etten does, but this song from her new album, Are We There, does it for me mainly because of the harmonies on the chorus. She's just repeating "our love" over and over, but it's warm and unexpected and incredibly soothing. And it's a little less depressing than most of her other songs (not that there isn't a time and a place for that). — Eliza Berman, culture intern
FKJ ft. Damon Trueitt, "Higher in Love"
Stream | Download
Aside from the general notion of being in love, FKJ's "Higher in Love" embodies the feeling of losing yourself in whatever brings you in joy and then some. In summertime in New York City, going with the flow is almost a prerequisite. — Johnson
La Roux, "Paradise Is You"
Stream | Download
Elly Jackson has returned with a new solo album, Trouble in Paradise, under the La Roux moniker that "In for the Kill" made famous. It's an absolutely magnetic blend of '70s disco and modern synth-pop. My favorite track, "Paradise Is You," is a glistening power ballad that showcases Jackson's breathy vocals with some gorgeous harmonies. — Lockett
TODAY IN SLATE
The Slatest
Ben Bradlee Dead at 93
The legendary Washington Post editor presided over the paper's Watergate coverage.