The Longform Guide to Late Night
From Carson to Conan, a collection of stories about the kings of late night.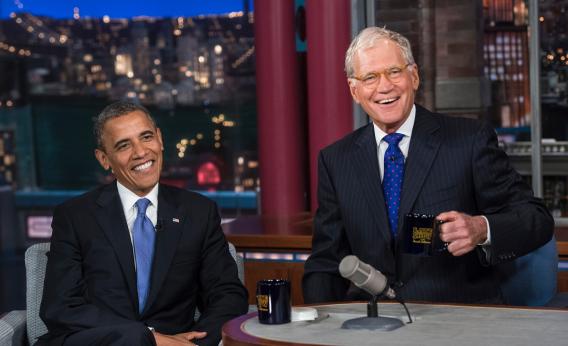 Every weekend, Longform shares a collection of great stories from its archive with Slate. For daily picks of new and classic nonfiction, check out Longform or follow @longform on Twitter. Have an iPad? Download Longform's app to read the latest picks, plus features from dozens of other magazines, including Slate.

The late-night talk show host is a unique beast—these guys (always guys, of course) are hilarious, hard-working, and prone to some of the most public spats in TV. Here are six stories about the personalities and politics of late night.

Big Trouble at 11:35
Mark Seal • Vanity Fair • April 2010
David Letterman weathers a sex and extortion scandal:
"Letterman is, by his own admission, one of the most unhappy, insecure, guilt-ridden, self-loathing, self-pitying people on the planet. All of this informs his choices, especially when it comes to women. 'He favors unadorned women and at the same time women who are at the reach of his demonically low self-esteem,' says one veteran Letterman observer. He has ignored or avoided obvious on- and off-the-air passes by some of the most beautiful stars of our time, saying that he felt he had nothing in common with them, and nothing to say to them outside the show. Drew Barrymore danced on his desk and lifted her top for him. Madonna asked him to smell her underpants. Ellen Barkin spent two weeks trying to seduce him while researching a film role backstage at his show. 'I was breathing on your neck!,' Barkin told him on the air, adding that he didn't merely reject her, he never even noticed that she was there. Julia Roberts practically made a second career of flirting with Letterman over the years. 'I don't think women get over him,' his former assistant Laurie Diamond once said.'They're married to someone else now and are still dying to talk to him.' "
Johnny Carson, profiled at the top of his game.

"Mort Sahl, who was last seen on the 'Tonight Show' in 1968, described to me not long ago what happens when a guest fails to deliver the goods. 'The producer is crouching just off camera,' he said, 'and he holds up a card that says, "Go to commercial." So Carson goes to a commercial, and the whole team rushes up to his desk to discuss what went wrong. It's like a pit stop at Le Mans. Then the next guest comes in, and—I promise you this is true—she's a girl who says straight out that she's a practicing lesbian. The card goes up again, only this time it means, "Come in at once, your right rear wheel is on fire." So we go to another commercial. …' Sahl is one of the few performers who are willing to be quoted in dispraise of Carson. Except for a handful of really big names, people in show business need Carson more than he needs them; they hate to jeopardize their chance of appearing on the program that pays greater dividends in publicity than any other. 'Carson's assumption is that the audience is dumb, so you mustn't do difficult things,' Sahl continued. 'He never takes serious risks. His staff will only book people who'll make him look artistically potent. They won't give him anyone who'll take him for fifteen rounds. The whole operation has got lazy.' "

An out-of-character conversation.
"PLAYBOY: Are you surprised people are drawn to cults?
"COLBERT: Not surprised. I'm fascinated. I'm fascinated that people want to know what to do. And people want to know what to think. And people want to know how to feel. Not just what to feel but how to feel.
"PLAYBOY: Do you think that's unnatural?
"COLBERT: No, it's completely natural. I'm surprised there aren't more unbalanced people in the world, because being alive is not easy. We're just not that nice to one another. We're all we have, and Jesus, are we shitty to one another. We really are. The only thing that keeps us going back to one another is that we're all filled with such enormous self-doubt. We have doubts about our ability to be alone, to self-actualize. We're on such a rocky road all the time. Every moment is new. Every inch of the mountain is fresh snow. If someone said, "I have been out ahead and I know what you're supposed to do," if I believed that were true, I would absolutely obey whatever father told me. I would stay on the compound."

The Evolution of Jimmy Kimmel
Jason Gay • New York Observer • May 2002
A local boy brings a touch of class to the city on the Bay:

"Physically, Mr. Kimmel reeks regular guyness: Short-haired, barrel-chested and usually in need of a shave, he's the kind of lovable-schlep who looks like he's wearing a Rangers jersey even when he's not wearing a Rangers jersey. Indeed, if late night is college and Jay Leno is the obsequious student-council treasurer, David Letterman the fifth-year senior turned cranky dorm proctor, Conan O'Brien the improv captain and Craig Kilborn the smarmy Lothario who slept with the freshman girls, then Jimmy Kimmel is the cool guy smarter than his 2.0 G.P.A. who didn't mind if you borrowed his porn, or puked in his room."
A writer for Conan O'Brien on how The Tonight Show really ended and on how his boss got screwed.

" 'It was my first day back after a December holiday break and my seventh month as a writer for The Tonight Show. I was walking by some of the other writers' offices before our afternoon rehearsal when I noticed one of them staring intently at his computer. Without taking his eyes off the screen, he called out, 'Come here. Look at this.'

"Dominating the TMZ.com home page were side-by-side close-up images of Jay and Conan, beneath a red exclusive banner. The photos were so oddly cropped and blurred, at first glance you might wonder if TMZ was reporting that these two talk-show hosts had been captured by Al Qaeda. But the photos were not nearly as unsettling as the headline above them: 'NBC Shakeup—Jay Leno Comes Out On Top.'
"As I headed back to my own office to find out more, I noticed several other co-workers sitting at their computers, each staring at the same fuzzy photo. It was unusually quiet on the floor, but if you listened closely, you could hear a kind of low whirring sound emitted by all of our brains at once: FUUUUUUUUUUUUUU—"
Steve Allen, the original host of The Tonight Show, in his cranky, later years.

"Avant-garde in his 30s, he's on guard in his 70s, railing against a decline in America's cultural and intellectual life. He has become an increasingly conservative voice on some issues, even though many of his views remain firmly left of center.

"Allen once talked like a populist; now he decries the growing stupidity and gullibility of the American public. He crusaded against the Vietnam War, but blames the counterculture for contributing to the moral decline of our national life.

"These days, he speaks out on the declining civility of TV sitcoms; he denounces stars like Madonna, who he says flaunt vulgarity. He dismisses much of rock 'n' roll as an art form inferior to American music of the '30s, '40s and '50s."