Hard Times
A more intimate, realistic tale of male strippers than Magic Mike.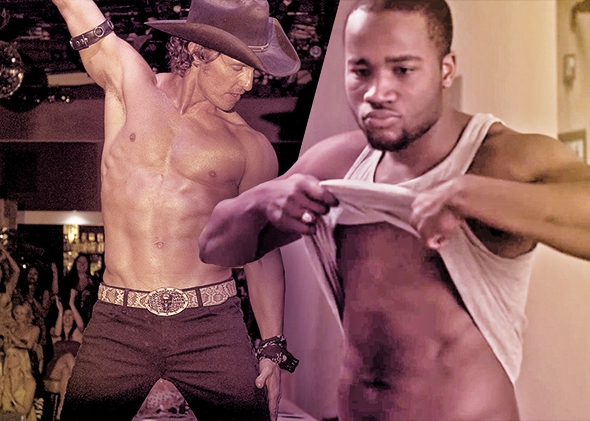 When Steven Soderbergh's Magic Mike was released in the summer of 2012, it was widely seen as reflective of the precarious economic times: Watching good-looking, down-on-their-luck men like Mike (Channing Tatum) and his wide-eyed protégé Adam (Alex Pettyfer) turn to stripping to pay their bills reinforced just how constricted the job market had become.
The new, aptly titled Web series Hard Times, directed by Tahir Jetter and streaming on Issa Rae's YouTube channel, takes a similar approach: Lead character Derek (Abraham Amkpa), like Adam, takes up stripping to make money and has to learn how to cater to the desires of women to succeed. That's where the similarities end, however, and where the narrative path of Hard Times diverges from Magic Mike's. In its more detailed portrait of both Derek's money troubles and his steep learning curve when it comes to stripping, Hard Times captures today's bleak economic picture in a way that feels more grounded and realistic than its cinematic counterpart.
When the series opens, Derek, a personal trainer living in Brooklyn (where the series is shot) is in dire financial straights: His client bookings are few and far between, and his bank account is running on empty. It's gotten so bad that he tries to walk out on a restaurant bill without telling his girlfriend, Lark (Ashley Denise Robinson), who was in the restroom when his credit card was declined. (The waitress runs after him, at which point he pretends he was "running to the ATM"; Lark, mortified, hands over her credit card.)
Derek is introduced to the world of male stripping by one of his clients, Nia (Bianca Laverne Jones), who frequently hosts and books private dancers for her friends. Astonished by the amount of money the men at a male strip club make, he discusses the possibility of a side gig as a dancer with Lark, who is more amused than anything else at the idea, and approves. Derek takes Nia up on her offer.
Hard Times is only four episodes in—its midseason finale went live a couple of weeks ago—but already it's probing issues Magic Mike was never truly interested in investigating. Take, for instance, Derek's awkward transition into an object of sexual desire.
In Magic Mike Adam's education as a dancer is treated the way road-to-fame narratives always treat their novice stars, at least since Ruby Keeler's inexperienced hoofer Peggy Sawyer took the place of the injured lead dancer in 42nd Street in 1933: He's practically an instant star. At first, Adam looks like a deer caught in headlights:
But by the end of the short dance number, he's gyrating enthusiastically and making out with an overzealous audience member.