The Lost Gershwin
What might George Gershwin have accomplished if he hadn't died at 38?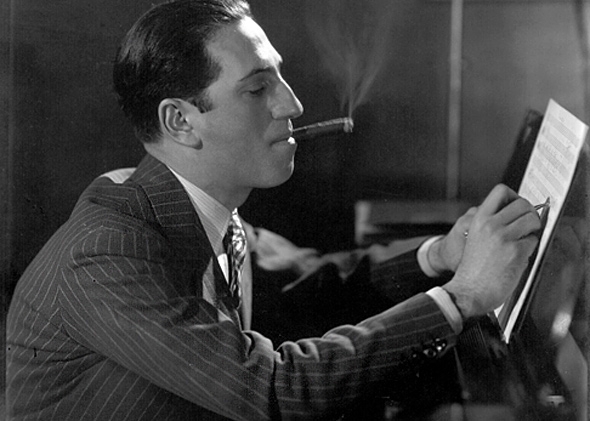 Not bad for a composition that premiered on Feb. 12, 1924, and for a composer dead in 1937. Gershwin was born two centuries ago and—witness those newspaper articles—remains wholly current today. On radio stations, in cabarets and nightclubs, on college campuses and summer stock platforms, around the piano in a private home where friends share sheet music and gather to sing—in venue after venue his work lives. Our culture is in important ways enriched by his contributions; his melodies and "folk opera" and orchestral compositions are part of the national song. The upward thrust of his career seemed, in effect, unstoppable—or, rather, what stopped him was death. So one cannot keep from asking, What if, what else, what next?
It's the problem posed by every man and woman dead in the throes of invention while still at the top of their form. George Gershwin was working till the end, he collapsed almost literally at the piano keyboard and the conductor's podium; he was full of projects in his final days. He did complain, in his last period, of headaches and exhaustion—but those who knew him thought it likely that he would recover; a trip to Europe or a week of tennis would no doubt prove restorative, and he'd be back on stage again with his customary élan. He'd been "down and out" before, but always only briefly, and the trajectory was always, only, up.
This held true from the beginning. From the modest house at 242 Snediker Ave. in Brooklyn where he was born, to penthouse apartments in Manhattan and lavish suites in Hollywood, his is the career path of the American dream. Prosperity was new to him, and as soon as it arrived he embraced its tailored trappings; with a starlet on his arm and expensive cigar in his manicured hand, he became the very image of a dashing young celebrity. The playboy romancer and man-about-town were roles Gershwin took to smilingly; his name glowed in actual lights. Photographers trailed him; gossip columnists made much of him; when he traveled he traveled first-class.
The family began with no such wealth; his father, Morris (Moishe) Gershowitz, came by himself to the United States from St. Petersburg in 1890. His mother, Rosa Bruskin, left Russia in 1892; the two immigrants met again in New York (according to family lore, they had known each other in St. Petersburg) and were married on July 21, 1895. George Gershwin—the second of the couple's four children—was born on Sept. 26, 1898 as Jacob Gershvin, the name Gershowitz had assumed upon arrival in America. After he became a professional musician; he would change the spelling of the family name to "Gershwin"; his older brother Ira (whose given name was Israel) and the others followed suit.
Poverty was, early on, an issue; hard work was a necessity, not a choice. As Robert Kimball and Alfred Simon put it in The Gershwins, Gershwin's father "was, at the time of his marriage, a foreman in a factory that made fancy uppers for women's shoes. But in the next 20 years he moved his family ... no less than 28 times as his occupations shifted—part owner of a Turkish bath on the Bowery, part owner of a restaurant on Third Avenue near 129th Street, part owner of another restaurant on the Lower East Side, owner of a cigar store, owner of a billiard parlor, of a bakery, even a venture into bookmaking at Belmont Park." Though they were never destitute, the family was elevated by their children's earnings to what must have felt like a noble condition; not for nothing are so many of the Gershwin brothers' songs about a realized dream.