A Grand Unified Theory of Pixar
Those Easter eggs aren't inside jokes—they tell the secret history of a world where the little girl from Monsters Inc. grows up to be the elderly witch from Brave.
The next movie in the timeline is Up, which takes place years after Toy Story 3. We know this because there's a postcard from Carl and Ellie in Andy's room. This means that Ellie is still alive and the events of Up have not yet happened.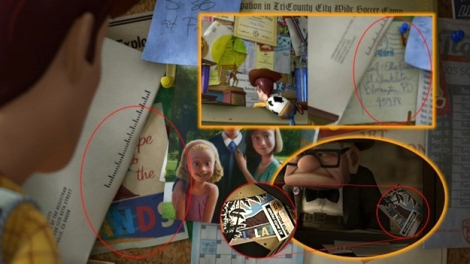 Up is extremely important because we finally see BNL taking over. Carl is forced out of his house by a corporation that is trying to expand the city. Even more importantly, we find Charles Muntz has invented collars that allow him to hear the thoughts of his dogs. It's likely that the events of Ratatouille happened in plenty of other places, giving Muntz the idea that his ambitions could be accomplished more efficiently by animals, since he's tracking a bird.
The implication of this technology is that humans are beginning to overstep their bounds with animals, causing an imbalance of nature. We don't know exactly what happens between humans and animals, but we do know that machines take over completely. In Wall-E, which takes place centuries later, we learn that BNL takes over all of the world governments and exiles humans to space so that they can "clean up" the mess they've made from pollution. We don't see what the planet looks like before humans leave, which means BNL could have exiled humans in an effort to curb the intelligence and growing dominance of animals.
The next movie in the timeline is Cars, which explores a familiar Earth being populated by machines with human qualities. Strangely, very few animals exist because of this. The problem with machines running Earth, however, is that the planet is drained of resources, a problem addressed in Cars 2. BNL realizes that Earth is useless because of this and abandons the planet entirely.
The result is a barren wasteland, 700 years later. In Wall-E, we find a robot that BNL left behind that is still trying to fulfill his programming. Wall-E likely survived because of his ingenuity. He scavenges parts to stay running, befriends a cockroach, and watches old movies. For the same reason that toys seem to stay "alive" because of the love of humans, so does Wall-E. He discovers the last shred of life on Earth and travels to Axiom to be with Eve. The problem is that Axiom is run by the AutoPilot (an A.I. of course) and tries to stop Wall-E from freeing humans from their dependence on machines.
Wall-E liberates the humans and they rebuild society on Earth. In the credits, we see the last plant-life has grown into a mighty tree. We next see that tree on the island in A Bug's Life, where we find that animals are living separately from humans—something we never see in the other Pixar films—incorporating human activities such as cities and a circus in their lifestyle.
Because the Earth was terribly polluted, animals have begin mutating as a result of adaptation. They have progressed past humans and overshadow their limited population. As a result, humans die out and animals become the dominant species.
After thousands of years, animals become "monsters," the super-species we see in Monsters University and Monsters Inc. The only problem is that humans are the source of energy for machines, so the monsters have an energy crisis without them. So the monsters invent time-traveling doors that allow them to harvest energy from humans in the past. To prevent monsters from changing time, they are taught to believe humans are toxic and they can't alter that world. Only a few monsters at the top know that this is time travel.
As a result, Sully becomes attached to a human child named Mary (Boo) who grows to love him. When Sully eventually disappears, Boo becomes obsessed with trying to find him. Because of her time in the monster world, she knows that doors are the key. So Boo finds a way to use wood as a means of time travel, using doors. She becomes a witch, traveling across time to find Sully, not realizing that he was millennia ahead of her.
So Boo goes backward, believing that finding the source of this magic will make her powerful enough to find him. She is the witch from Brave. Her love for Sully is actually the crux of the Pixar universe. The proof: This carving, just glimpsed in the witch's cabin.