The Gatsby Test
I've never read The Great Gatsby. But can I write a convincing high school essay about the novel after watching the film?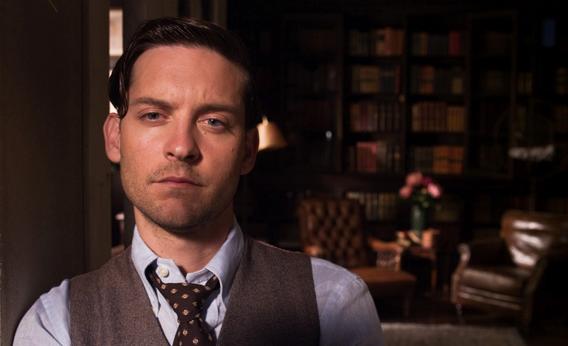 In the weeks leading up to Friday's release of Baz Luhrmann's The Great Gatsby, I suffered from many of the same symptoms that the institutionalized Nick Carraway exhibits in the film: nervousness, irritability, insomnia—perhaps even a heightened propensity for drink. My anxiety level rose incrementally with each departmental meeting and office discussion that focused on the film. As my colleagues giggled with glee at their Gatsby video game, I cowered self-consciously in my cubicle. What was this stupid green light they were going on about, and why was that poor rower forever being borne back into the past?!
You see, I had a terrible secret: I have never read The Great Gatsby. I'm tempted to blame my otherwise excellent high school English teachers for this sad state of affairs; instead of Fitzgerald, we studied classics like Ethan Frome, Chronicle of a Death Foretold, and How Does a Poem Mean? However, I obviously bear some responsibility, too: I certainly could have picked up the great American novel during my English studies at a rival school of Tom Buchanan's alma mater, or at any point since. But I didn't. For whatever reason, Gatsby was consigned to my particular version of the list of classic books one pretends to have read while making small talk at dinner parties.
My status as a Gatsby virgin, though personally embarrassing, proved useful to my editors, who wanted me to belatedly undergo the quintessential high school Gatsby experience. How would someone who hadn't read the book fare on a multiple-choice quiz about the novel after viewing the film, they wondered? For that matter, could I pull off a convincing essay about Fitzgerald's most famous work after watching the movie? I avoided reading commentary on the film, saw it on Friday evening, and then got to work on my assignments.
My first task was to answer 25 questions, mostly plot-related, from SparkNotes' Great Gatsby study guide. (Try it for yourself.) I expect this quiz would be a cakewalk if you had read the book—the questions were on the order of "Who is Dan Cody?"—but, having not had that pleasure, I found the premises of certain questions (i.e., the ones I botched) completely confounding.
I earned 84 percent, not knowing details like why Gatsby dropped out of college. (Apparently he had to work as a janitor and was embarrassed? The film, as far as I can remember, is unclear about why his five-month military-sponsored stint at Oxford ended.) I was also completely oblivious to the fact that Gatsby's father came to his son's funeral. (The movie is quite clear that only Carraway was in attendance). Additionally, according to this quiz, Gatsby and Carraway fought in the same battle in World War I, which unless I blinked at the wrong moment, was not in the film.
For the essay portion of the test, we roped in Michael Donohue, an English teacher at Saint Ann's School in Brooklyn (and a National Magazine Award-winning writer). Donohue provided me with a list of essay topics he routinely gives his sophomores after they read The Great Gatsby, and he kindly agreed to grade my essay as though I were a high school student who had read the book. I chose the following prompt:
Nick Carraway: Write an essay offering an interpretation of his role in this novel. Why does Fitzgerald choose to have the story narrated by a minor character? What's the effect of having the story told from Nick's perspective? To what extent is this Nick's story, and not Gatsby's? Is it a tale of his coming of age? Of his coming to realize that he belongs in Minnesota?