Please Submit All Ethnicities
The tricky business of writing casting notices.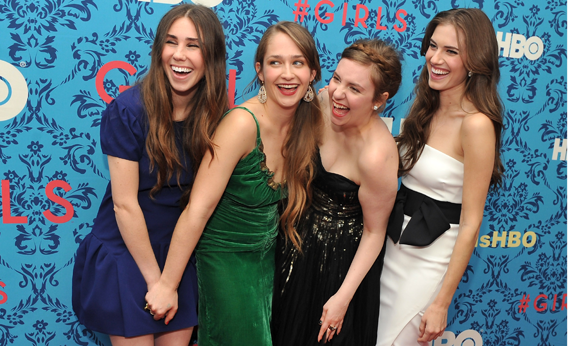 Of the many gifts the HBO series Girls has given America—hilariously authentic sex scenes, instructive fashion ensembles, shirtless Adam Driver—the greatest may be the serious conversation it sparked about the issue of on-screen diversity, a conversation whose staying power has been surprising and gratifying.
From the earliest rumblings about the show's overwhelming whiteness to the widely circulated news that Community's Donald Glover (who is black) had been spotted filming scenes for the second season, each new development has been an opportunity to ponder the big questions surrounding the issue of casting and color. Questions like: What's the difference between legitimate diversity and crass tokenism? And what's more important, artistic freedom or social responsibility?
During the most heated period of discussion about the show's "diversity problem," a pair of Girls casting notices from 2011 hit the Web and seemed to offer some clues about the show's approach to its ethnic characters. One notice sought a "pleasantly plump" Latina co-worker, Chastity, for Hannah; a rainbow group of nannies with accents (including a "sexy" El Salvadoran and an "overweight" African American with a "good sense of humor"); and a "VERY VERY HANDSOME AND VERY SEXY" African-American lover for Jessa. The other notice advertised roles including an Asian sake bar waiter; Tako, a "tough, tiny" African-American lesbian; and a female junkie, for which agents were asked to "PLEASE SUBMIT ALL ETHNICITIES," leading Jezebel writer Cassie Murdoch to quip, "Ooh, the junkie can be any ethnicity! How progressive." (The junkie was ultimately played by a white actor.)
Commenters noted that most of the parts being advertised were very small ones. Kendra James, who published the first notice on Racialicious, wrote that "Girls, set in Brooklyn, where only one-third of the population is white, somehow exists in a New York where minorities are only called to cast for one-liners and nanny roles." On Jezebel, Dodai Stewart pointed out that fat, sassy black women and sexy Latinas are hoary old TV stereotypes, hardly in keeping with the rest of the show's zeitgeisty freshness. The posting of an open casting call in May for "hipster types" of "all ethnicities" to play background roles was met with a mix of cautious optimism (at least they're trying) and eye-rolls (only extras?).
This wasn't the first time a casting document has become tangled up in the fraught, ongoing debate over how pop culture gets its color. When the creators of The Hunger Games announced they were seeking a Caucasian girl to play the lead role of Katniss—despite her being described in Suzanne Collins' novel as having olive skin and black hair—many fans cried whitewashing. When notices for M. Night Shyamalan's The Last Airbender specified that its four leads could be "Caucasian or any other ethnicity," critics noted that the phrasing—intentional or not—made the casting process sound a bit like Orwell's farm, where "some animals are more equal than others." Long before 2 Broke Girls premiered and came under fire for its broadly stereotypical supporting characters, bloggers noted that early audition scripts described the girls' Korean boss as a man who wears his pants "belted up way too high on his torso" and has a poor grasp of English. And in the same week that the Girls notices were published, Acura was getting raked over the coals for an audition notice that described the "African-American Car Dealer" they wanted to appear opposite Jerry Seinfeld in a Super Bowl ad as "Nice Looking, friendly. Not too dark."
Of course, casting notices—also known in the industry as breakdowns—can only reveal so much about the decisions that go on behind the scenes on a film or TV project. Like any job listing, they're a starting point. Brian Herrera, a Princeton professor who's working on a scholarly history of casting, points out that there are so many factors that go into any casting decision—who you can afford, who's available, who looks good next to that other person you've already hired—that it can be hard to pin down exactly how Hollywood gets from Point A (a script) to Point B (the people flickering on your screen), especially when so much of the decision-making happens behind closed doors. But in a breakdown, the filmmakers' and producers' initial wishes for the role are on display—and put into words. What can these documents tell us about the state of on-screen diversity and the way writers, casting directors, agents, and actors think about race?
The vast majority of breakdowns for films and television series flow through a network called Breakdown Services—about 98 percent of such listings, according to the company. Breakdown Services has been distributing descriptions of open roles to talent agents since the 1970s, when the process involved visiting casting directors' offices, reading scripts that had been left out in the lobby, and compiling a document to be circulated by overnight courier. The entire process has since gone online. Casting directors can send in their breakdowns, and Breakdown Services will then review and post the document, a process that includes assigning an ethnic category to each role. Talent agents view the listings in the company's database and submit client materials that seem to fit the bill. Most breakdowns are only available to talent agents and the occasional manager to prevent casting offices from being flooded with the headshots and resumes of the unwashed, unrepresented masses. (Generally speaking, breakdowns play a more crucial role in the casting of episodic television shows—a process that happens much more quickly than it does for films and thus requires a speedier collection of submissions.)
About half the listings released by Breakdown Services are prepared by its own staffers, with a signoff from the project's casting director; the other half are provided by the casting directors themselves. Thom Goff, Breakdown Services' East Coast director of operations, stresses that the descriptors his team puts into the breakdowns, whether they're personality quirks or ethnic designations, are either taken straight from the script or requested specifically by the creative team. (When writing the pilot script for Grey's Anatomy, the show that has become the gold standard for diverse casting, showrunner Shonda Rhimes—who recently kicked up dust over the lack of performers of color in the new ABC Family show Bunheads—pointedly avoided specifying her characters' ethnicities, going so far as to leave off last names to help ensure the casting process would be a truly open one.)
While role descriptions ultimately belong to the casting directors and creative team, Breakdown Services will step in if they feel the language is derogatory or doesn't meet its professional standards. "We tend not to say things like, 'this midget,' " Goff says. "We would say, 'this little person,' because that's the approved terminology." In the past, Goff would sometimes see a single breakdown refer to "upper- or middle-class characters" as "African-American" and then go on to describe "lower-class or thug" characters as "black"—a linguistic tic that he says Breakdown Services put a stop to.