Nick Slaughter for President
How the star of a cheesy Canadian detective show became a political hero in Serbia.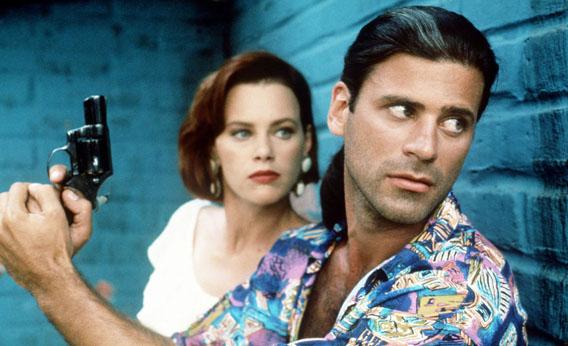 Rob Stewart was a famous actor for 16 years before he realized it. He was an unemployed writer/director $6,000 in debt when he started going on auditions in his late 20s, hoping to land a role that might fund his other projects. In 1990, he tried out for a new show called Sweating Bullets, what he calls "a B-version Magnum, P.I." about a Don Juan detective named Nick Slaughter who solves local crimes in the fictional Florida beach town of Key Mariah.
Stewart, who couldn't afford a haircut at the time and had a "lion mane of hair," showed up in a tank top and jeans and had what he calls a "very bad audition."
"I accidentally went out drinking the night before," Stewart, now 50, says on the phone from the Calgary set of Heartland, a Canadian drama about life on a horse ranch.
His tryout was so bad that when producer Peter Locke and writer/creator Sam Egan watched his tape, they almost immediately began fast forwarding. Then Locke's wife walked by and Stewart caught her eye. "That's your guy," she said.
After landing the job, the first thing Stewart did was ask for an advance to get a haircut. Locke said no. Instead, he pulled his new star's hair back in a ponytail and dressed him in a permanently unbuttoned Hawaiian shirt to show off his chest hair. Nick Slaughter was born.
Though Slaughter never failed to solve the crime—everything from petty theft to murder—and bed the dame, his approach was nowhere near as smooth as Tom Magnum's. Stewart hammed up the one-liners the show's writers served up each week, delivering them in a "lazy Canadian version of Groucho Marx." Bullets aired for three seasons in Canada and in the United States as part of CBS' Crimetime After Primetime.
And that would have been that. But in the summer of 1992, following Yugoslavia's breakup under Slobodan Milosevic, Bullets aired in Serbia and the series—known abroad as Tropical Heat—took on a second life. The U.N. had just imposed sanctions on Serbia, isolating the newly landlocked country and shrinking its economy. Robert Nemecek, the programming director for a then-new local television channel called TV Politika, was looking for a "positive, sunny, and colorful" series to buoy the spirits of Serbs who could no longer summer on the Croatian coast. He wanted Baywatch, the most popular beach-set series at the time, but it was too expensive. That's when Tropical Heat landed on his desk.
"First of all, it was the light entertainment needed for an audience bombarded with pictures of war," Nemecek said via email. "Second, it was Rob's face—he had the face of a Serbian!"
An embargo prohibited large companies from making new deals with Serbian programmers, but independent distributors like Peter Locke had free reign. Between 1993 and 1997, Heat aired on three other channels besides TV Politika: 3K (1994-1995), TV Novi Sad (1993-1994) and, after the embargo ended, TV Pink (1996-1997). Thanks to contracts signed before Yugoslavia's split, shows like Twin Peaks and Beverly Hills 90210, along with pirated satellite series like Melrose Place, The X-Files, and L.A. Law, continued to air as well. But Tropical Heat was up to the competition. The series was a hit, and Stewart a star.
Milos Djuricic, an actor from Belgrade who recently co-starred with John Cusack in The Raven, was eight when Tropical Heat first aired in his native country. In the new documentary Slaughter Nick for President, which explores Tropical Heat's unlikely popularity in Serbia, Djuricic tells Stewart the show was one of the reasons he got into acting, "not because of very good production or very good acting, but [because] at that time I wanted to be in that paradise." The farthest he could travel in the '90s was his grandmother's village, but he didn't need a visa or a passport to get to Key Mariah.