The New York Observers
Lena Dunham's Girls, Candace Bushnell, Katie Roiphe, Whit Stillman, Chloë Sevigny, and the voices of generations.
So in December I was enjoying the pilot and then I was enjoying the second episode, "Vagina Panic," even more immensely. Here, Hannah and her sisters in young-adulthood hit a stride. Marnie (played by Allison Williams) is coltish, well-bred, and selfish in a way that will appall her once she earns some self-perspective. Shoshanna (Zosia Mamet) is an American princess in pink and a college student tittering like a busy mouse. Jessa (Jemima Kirke) is something else, an international hobo who does not quite hide her simple needs and impulsive appetites behind a mask of cool. In Tiny Furniture, Kirke's alter-ego was called Charlotte, and she liked to think of herself as "TriBeCa's solution to Marianne Faithfull." But Jessa, this chick, she's just, like, Beggars Banquet in human form.
Dunham, as Hannah, is kind of like an SNL player doing body art, you might think, watching this episode, which pushes her skirt over her hips and your eyes up her skirt. Has any of the commentary around Dunham's use of her nude or naked body in her work bothered to compare her to Tracey Emin, Pipolotti Rist, Vanessa Beecroft, Marina Abramovich, or for that matter Matthew Barney? Has any of it bothered to mention what should be obvious—that most people in America under the age of say, 30, are in possession, or not, of nude or naked photographs of themselves?

But I am saying that in late December I was enjoying the show immensely, and the credits came up after the second episode and I saw that the story editor on Girls is one Deborah Schoeneman.
I don't know Lena Dunham, but I know her story editor. Deborah is an old friend of my first roommate in New York City and not that long ago we were all just kids. I have been a fan of hers since she was a reporter at the Observer, writing stories like "The Morning-After Outfit," a classic about the modern conveniences available to young professionals waking from a spontaneous night of casual sex: "Banana Republic, the Gap, Old Navy, H&M, French Connection and Club Monaco–these chain stores, with their cheap, disposable styles, indifferent salespeople, early-ish opening times and liberal return policies, allow one to sleep in someone else's bed, then head straight to work without having to face one's sniggering colleagues while dressed in last night's pants.

I saw Deborah Schoeneman's name in the credits, so I Googled her, and I was reminded that, according to the Times, she was the first person to document Googling someone as a social practice, in a 2001 Observer article "Don't Be Shy, Ladies-Google Him!" Upon developing a romantic or erotic interest in someone, you would type his or her name into the search engine "to perform secret background checks…. It's not perfect, but … it's proven to be as reliable as the scurrilous gossip you get from friends." Schoeneman continued:
While brushing up on someone's personal history online has its benefits, Googlers must be cautious about going overboard and calling attention to their Web investigations–no one wants to be seen as an "e-stalker."

I once busted someone for Googling me. One night at dinner, a writer I met asked me about a story I had written in the Village Voice five years ago. I was caught completely off-guard. "I never told you I worked at the Voice," I said.
The guy, who turned out to be a great friend, blushed. "I Googled you," he confessed, adding: "I do it to everyone, to see what they've done."

You are sitting there reading that, and thinking the whole scene quaint—blushing, confession, e-stalker—and I ask you to imagine the whiplash I contracted, in December, when I re-read that story on the Observer's website and then clicked on a story on its most-popular list. That story, headlined "Meet Marie Calloway: The New Model for Literary Seductress is Part Feminist, Part 'Famewhore' and All Pseudonymous," concerned a 21-year-old essayist from Oregon who pursued an affair with a writer in New York and wrote a story about it for Thought Catalog, which evidently is a website where young people write things. "The piece," wrote Kat Stoeffel in the Observer, "was shocking for its explicitness—it included a photograph of Ms. Calloway that purported to show the writer's semen on her face—and the fact that its title was the writer's name."
Last week Thursday, I went to the Brooklyn Academy of Music to look at The Last Days of Disco, which I had not seen in a theater since the first time I saw it at Girls-age. It was screening in a repertory series called "Hey, Girlfriend! Lena Dunham Selects," the screen having given itself over to Ms. Dunham for a week.
It was still pretty good, with the camera lavishing gentle affection on Sevigny's shy shoulders. I was strongly tempted to weigh its particular wry earnestness against Dunham's, whose work is intimate and impassioning partly because it breathes with the sense that irony is a literary device, not a way of life. I felt a different kind of resonance in the climactic elegy—an elegy for disco music, for the 20th century, for the very early 1980s, for anyone's early-to-mid 20s—delivered by Matt Keeslar: "We've lived through a period that's ended. It's like dying a little bit." The movie ends with the bliss of a dance scene on a subway car.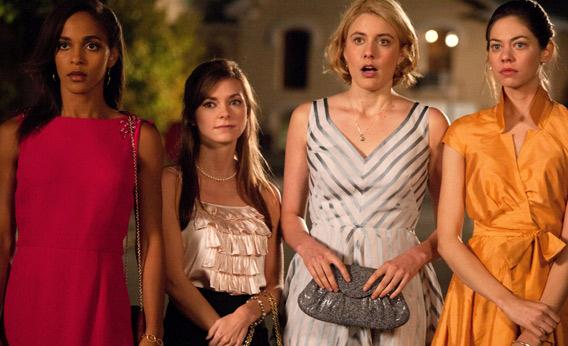 Stillman's follow-up to Disco, titled Damsels in Distress, arrived the day after the screening, belated and right on time. The new movie—a comedy starring Greta Gerwig as a kerchiefed co-ed—concerns the self-inventive ideas and self-destructive ideations of young people. The movie takes place on a fairy-tale campus, with no blue-light phones or blue pre-dawns. Damsels in Distress feels deliberately unfinished. It leaves off where Disco left off—with another dance scene. Here is a splash through a campus fountain and an attempt by Gerwig's heroine, who spends her energies thwarting suicides, to launch an old-fashioned decorous dance craze. The scene—like the dancing-on-my-own moment that closes the buoyant third episode of Girls—seems to be saying that the pleasure of one's own body is the best cure for the ailment of thinking too much.
Disco was Thursday. Damsels opened Friday. Girls premieres next Sunday. Easter Sunday night I am with my laptop very late sketching out this idea in a bar. The bartender is playing country swing off iTunes. Two couples—two new couples, maybe?, this looks like a pick-up in parallel—are dancing triple steps, triple steps, rock steps, blissfully. Why not?