How Much Gold Is Game of Thrones Worth?
How does HBO make money on expensive shows only 3 million people watch?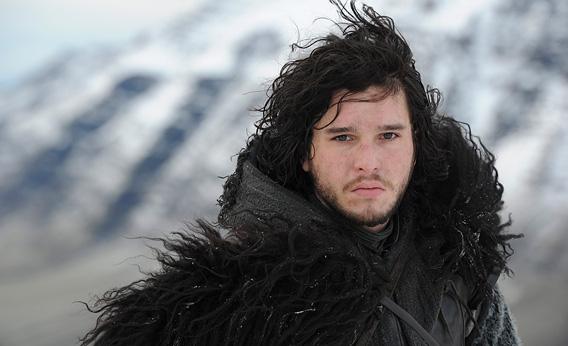 Last March, in a flurry of fur, blood, and gnarly beards, George R.R. Martin's A Song of Ice and Fire series of fantasy novels came to television. Game of Thrones was, as Slate's Troy Patterson noted, the "most anticipated" show of the year, and in its inaugural season it garnered a brace of Emmys, generated more than a dozen stories in the generally dragon-averse New York Times, and won the hearts of TV critics. In that light, the show's performance in the Nielsen ratings might seem underwhelming: The first airing of the season premiere drew 2.2 million viewers, and 10 weeks later the finale was seen by 3.04 million people, numbers similar to those for the Fox sitcom Breaking In. And yet Game of Thrones was renewed two days after its premiere, and no one doubts it was a hit. If premium cable channels like HBO and Showtime aren't judged by the Nielsens, how do they define success? And how does a niche program like Game of Thrones—beloved by fans, but watched by a tiny fraction of the viewing public—make money?

The premium networks are in the business of selling subscriptions. A Showtime spokeswoman told me that the channel's goal is to satisfy subscribers and to entice nonsubscribers to sign up. They keep their customers happy by allowing them to watch original TV series, exclusive movies, and sports programming whenever they want to—it doesn't make a lick of difference to HBO if subscribers watch Game of Thrones the first time it airs or six days later. That's why they repeat their flagship Sunday night shows so frequently and make them available to subscribers on-demand, online, or through services like HBO Go and Showtime Anytime.
On the networks and basic cable, shows are a delivery vehicle for advertising—and if a program doesn't attract a big enough audience for those ads, the consequences are clear: It's pulled from the schedule, and a new show is dropped into the time slot. On those channels, viewer's just another word for person who sees a commercial. The programmers' job is to get as many people as possible to watch their shows—and, most important, the ads that appear in the middle of them—as close to the first airing as possible.

The ratings that premium channels pay most attention to are the weekly figures that include replays as well as DVR and on-demand viewing. Although the first Sunday night screenings pulled in an average of just 2.5 million viewers during the first season, Game of Thrones' average gross audience was 9.3 million viewers per episode. For the premium networks, what matters is that viewers are passionate enough to keep their subscriptions active. That's why Showtime renewed House of Lies, which grew from 800,000 on Sunday to 4.4 million for the week, and HBO approved a second series of Luck, which leapt from 460,000 to an average gross audience of 4.1 million (though the show was later canceled because of concerns about animal welfare), while NBC killed Prime Suspect and The Playboy Club, which also attracted around 4 million viewers per episode. So yes, premium cable does pay attention to ratings—just different ratings, and with different standards of success, than at the broadcast networks.
But there are still more factors at play. Since the premium cable networks produce just three or four episodes of original television each week, they need to attract positive attention. Popular "buzz," a uselessly fuzzy concept for channels that make money from ad sales, is important to HBO and Showtime because it generates subscriptions—the more a show like Game of Thrones dominates the cultural conversation, the more people will sign up for HBO to watch it. Ideally, every show will receive a) critical praise, b) a huge audience, and c) a shelf full of statuettes. But in a pinch, just one of those things will suffice. The Wire drew a minuscule audience (peaking at 4 million but down under 1 million in its final episodes) and was ignored at the award shows, but thanks to critical acclaim, HBO gave the show five glorious seasons to spool out its complex drama.