How Hard Is It To Get a Cartoon Into The New Yorker?
Hard.
It was a Tuesday in July and I was sitting in the "cartoonist lounge" on the 20th floor of the Condé Nast building in Times Square with an envelope containing 10 drawings: my first cartoon submissions to The New Yorker. Every Tuesday is judgment day, the day Robert Mankoff, the magazine's cartoon editor, meets with cartoonists face to face.
Another seven or eight cartoonists were squeezed into the small waiting room, which is dominated by a long coffee table stacked with hundreds of New Yorker magazines. A giant print of a Sam Gross cartoon hung on one wall; underneath was a couch. Sam Gross sat on the couch. The other cartoonists either tried to engage in awkward small talk or just kept silent. Sam, by far the oldest and most established cartoonist in the cramped space, held court. He said, "Dr. Seuss was not a good artist. He couldn't draw kids. They were just adults with big heads."
One by one, in the order they'd arrived, cartoonists disappeared into Mankoff's office and emerged a few minutes later. One cartoonist was asked by another "How'd you do?" The reply was a shrug. Everyone's expectations were low, and how could they not be? Rejection is the norm.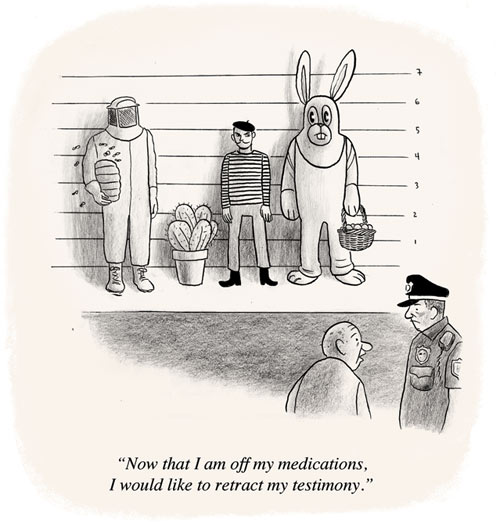 Fifty years ago, you could make a modest living selling work to popular, general interest magazines like Cavalier, Fact, Look, the Saturday Evening Post, and the Saturday Review, but today it's almost impossible to eke out a living as a gag cartoonist. There are still places that buy gag cartoons (like pharmaceutical brochures and yoga magazines) but none with the tradition or cachet of The New Yorker.
I don't normally draw gag cartoons; I'm what's now called a "graphic novelist." I'm not really considering a career change, but I was dealing with the mid-career blahs and wanted to try something new. It takes me several years to write and draw a book. The book's subject determines and limits what I can and can't draw. I enjoy the process, but it's a slog. I wanted more spontaneity in my creative life. So in March I decided to fill a sketchbook, 90 pages, with New Yorker-style cartoons—one cartoon a day for three months. No excuses.
If making graphic novels felt like a staid long-term relationship, then doing gag comics is like playing the field. One day I could draw a fortuneteller; the next, an astronaut. I went from sultans to superheroes, robots to rabbits. I felt liberated. I refused to get bogged down or fuss over the drawings. I spent no more than an hour with any one cartoon, and many took far less time than that. For the first two weeks I was feeling my oats. I already had a half-dozen keepers and was confident there were plenty more winners on the way. It was at this point that I started dreaming of actually selling a cartoon to The New Yorker.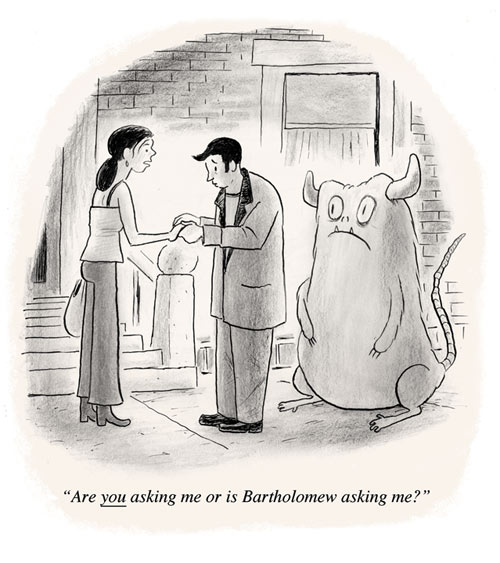 Once upon a time, before The New Yorker featured photos and illustrations, the cartoon was the magazines' visual star. The cartoon took up, and deserved, more real estate on the page. The art was built to last. Drawings boasted delicately controlled gray washes, accomplished pen and brushwork, and finely observed details. You got the idea that the cartoonists paid attention as they moved through the city; their drawings existed in the observable world as much as in the realm of ideas. In addition to his diagrammatic drawings of time and space, Saul Steinberg could render Fifth Avenue or the interior of a theater with a flourish of details that testified to his presence. The charming yet limited range of a James Thurber drawing stood out as an exception.
I'm not sure Thurber would stand out in today's New Yorker. Mankoff's cartooning credo, as outlined in his 2002 book, The Naked Cartoonist, is that it's the idea that transforms a quirky little drawing into a New Yorker cartoon. Or as Mankoff writes, "It's not the ink, it's the think." As a result, today's New Yorker cartoons reflect Mankoff's own work—a more narrow, idiosyncratic style that, like Thurber's, inspires readers like me to think, "I could do that."
By my fourth week of daily drawing, I hit a wall. It got harder and harder to generate gags, and I often found myself staring at a blank page at eleven o'clock at night, just wanting to get something down so I could go to bed. My measuring stick was the great New Yorker cartoonist William Steig. Besides knowing what made people tick, Steig possessed that holy combination of looseness and precision that gives great cartooning its casual authority. I knew I could never compare with Steig, but I didn't want to embarrass myself, either. I had my pride, and if I was going to produce another 60 gags I needed to approach things differently.
I started doodling randomly on scrap sheets of papers, trying to draw something surprising or something that made me laugh. The best of these doodles— Frankenstein's monster staring at his big hands, a rabbi taking bong hits in a dorm room—I would then redraw slightly tighter in the gag sketchbook and have faith a caption would come later. If after a week I couldn't come up with anything, I'd e-mail the drawing to my dad, who, by virtue of entering The New Yorker caption contest on a regular basis (and once being one of the three finalists), seemed the right man for the job.