The Man in Black in Living Color
The most insightful and entertaining Johnny Cash biography to date.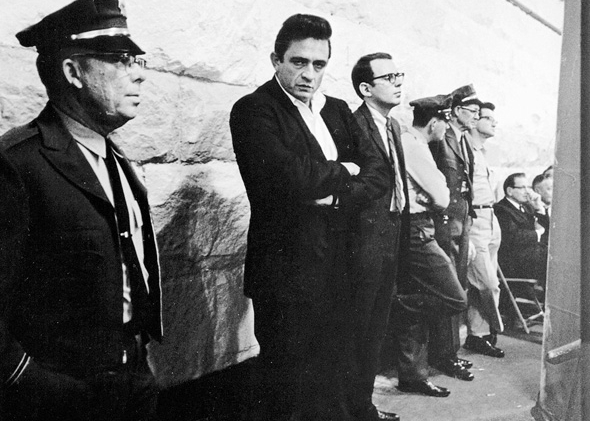 In the 10 years since Johnny Cash died, the Man in Black has arguably been more culturally present than he ever was while alive. Hollywood has something to do with this, of course, giving us the strenuous portrayal by Joaquin Phoenix in 2005's Walk the Line, the big-screen version of the Cash legend. A year after that, there he was again, scoring a chart-topping country album, the Rick Rubin–produced American V: A Hundred Highways—and again four years after that, when the next installment of the Cash brand, American VI, debuted at No. 3 on the Billboard album chart. His face has been slapped on countless envelopes since the U.S. Postal Service dedicated a stamp to him in June. And Cash music just keeps coming: several discs worth of previously unreleased recordings, back-catalog albums reissued by the score, greatest hits collections and box sets now numbering into the dozens, one for every price point—if you've got the money, pick that 63-disc Columbia Records box.
Or perhaps you're in the market for a Johnny Cash book? There was already a shelf full, a pair of autobiographies among them, before Cash passed in 2003. Since then, nearly 50 additional titles have been published, everything from biographies (at least seven) to memoirs (including ones from his son John Carter, his daughter Rosanne, and his longtime bass player Marshall Grant) to in-depth analyses of specific albums—to a Johnny Cash reader, a cookbook, and even a graphic novel. There are several Cash photo books available, too, probably the most beautiful being the just-released coffee-table volume called Life Unseen: Johnny Cash, An Illustrated Biography. And there are quite a few deep-thoughts tomes, as well, usually with names like Johnny Cash and Philosophy: The Burning Ring of Truth.
So when I heard that another Cash book was on the way, this one a doorstop biography by longtime Los Angeles Times music journalist Robert Hilburn, I must admit that my first weary thought was: "Do we really need another Johnny Cash book?"
Yes, we really do, as it turns out, because Johnny Cash: The Life is so very good. I won't sign off on "definitive," as the book's back cover proclaims, for reasons I'll explain in a bit. But Hilburn's work is far and away the most insightful, entertaining, comprehensive, and well-told Cash biography to date.
By now even casual fans are familiar with the broad-brush version of Cash's story: his older brother's death when he was little, haunting him down the years; the country and rockabilly hits in the 1950s followed by more crossover hits in the '60s and '70s; the famed prison concerts and the TV series—but also the addiction to a variety of pills; the long, tumultuous, and loving professional collaboration with June Carter Cash; and finally, following a lengthy period of artistic and commercial irrelevancy, the late-in-life second act that allowed Cash to reconnect with a young audience and to resuscitate his near-dead reputation as a rebellious-yet-moral American artist.
All this is consistent with the story Hilburn tells. But Hilburn also helps us see the Man in Black in something nearer to living color. It is not a pretty picture. Cash could be petty and insecure, and he was sheltered and self-centered in ways that only wealthy celebrities get away with for long. Cash got away with it, mostly, for much of his adult life, which is not at all to suggest that he and those closest to him weren't paying heavy prices for his behavior straight along.
Cash was a neglectful and frequently frightening father to his children, and to June's. "We'd wake up and find the kitchen was on fire because he done something wrong while making breakfast," Carlene Carter, a future country artist in her own right, tells Hilburn of life with her stepfather when she was a girl. "Or he'd show up without his key and take an axe to the front door."
Cash was, if not a serial liar, then at least a chronic embellisher: Some version or other of "[Cash] wasn't inclined to let the facts get in the way of a good story" becomes almost a mantra in the book. He treated his first wife cruelly; he had a not-so-secret affair with Billie Jean Horton, the widow of his dear friend Johnny Horton, and a longstanding not-secret-at-all affair with the woman who became his second wife, June Carter. His pill-popping nearly killed him on several occasions, and it persisted late into his life.
I could go on but won't. Suffice it to say, for long stretches of Johnny Cash: The Life, the protagonist comes off like a real asshole. If he weren't Johnny Cash, I'd hate him.
Of course, he is Johnny Cash, so I like him very much, flaws and all. Partly that's because I come to the book, as I suspect most readers will, deeply invested in Cash's music. It's also because I know the story will end about as well as could be imagined—and Hilburn's accounting of Johnny and June's final frail days together is tremendously moving. At times he almost seems to be in the room with them, and perhaps he was: A key to Hilburn's success here is that he knew the Cashes personally from 1968 on—he was the only music journalist to cover the recording of Live at Folsom Prison—and interviewed them many, many times, including talks that took place not long before their deaths. Hilburn's decadeslong commitment to the Cash story is surely one reason why so many of Cash's friends, associates, and family members—including Johnny and June's only child, John Carter Cash—not only shared their memories with Hilburn for the project, but granted the author access to Cash's and their own personal correspondence.
The letters to his wives and his children, and the annual letters he for years wrote to himself around Christmastime, are among the main reasons readers will root for Cash, even when he's just been at his worst. "Yes, congratulations John Cash on your superstardom," he chides himself in a 1972 note. "Big deal!" He cops to his faults and beats himself up for his failures. Again and again, the letters show a man trying very hard—imperfectly, and only intermittently—to be a better father, a better husband and Christian, a better man. "You stayed off pills but you're still awfully carnal," he tells himself in 1968. "You know what those little vices of yours are … You need to pray more. You hardly ever pray. Big deals ahead in 1969, possibly a network TV show, but the biggest thing you've got is your family and home. You'd better hang with God … "