The Lost Great Novel of Middle Age
Written by the author of Bread and Jam for Frances, no less.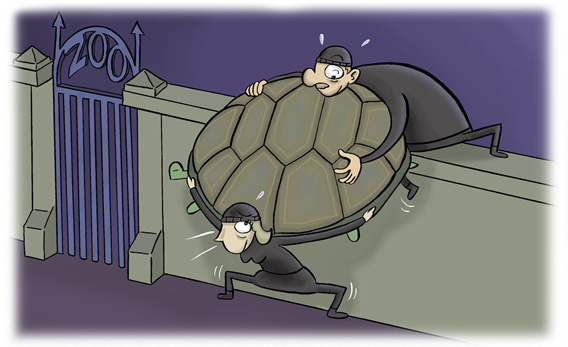 This essay is adapted from Ed Park's introduction to the new edition of Russell Hoban's novel Turtle Diary, out now from New York Review Books.
You hear a lot about things you're supposed to read. My own shelves are crammed with books I mean to get around to sometime. Yours probably are, too. So you may think you don't have room for Russell Hoban's novel Turtle Diary, which comes swimming back into print after nearly four decades, as patiently as its titular reptiles traverse the oceans stroke by miraculous stroke: "Thousands of miles in their speechless eyes, submarine skies in their flipper-wings."
This is what the best books do. They have all the time in the world. They never get lost. They find their way to you. What if I told you that Turtle Diary, about two loners on a mission to liberate the sea turtles from the London Zoo, is like a lot of things you already like, while being so much its own stupendous thing, that it's become one of my literary yardsticks?
For Turtle Diary is a disquisition on loneliness as perfect and inexhaustible as the Beatles' "Eleanor Rigby" or Chekhov's "Lady with the Little Dog," a work of art that vibrates on a new frequency each time you read it, depending on the weather in your life. Like Nicholson Baker's The Mezzanine, it's a breathtaking lattice of metaphors, everything standing for everything else, and on every page, the inventive similes—like those of P. G. Wodehouse, J. G. Ballard—provide a steady stream of delight. Birds called oyster-catchers "walked with their heads down, looking as if they had hands clasped behind their backs like little European philosophers in yachting gear." Though its "he wrote, she wrote" chapters don't crescendo into the blood-curdling shriek of Gillian Flynn's ingenious thriller Gone Girl (or, for that matter, the crazed fan letter/late reply of Eminem's "Stan"), the alternating POV generates a beautiful urgency here. And like Haruki Murakami's Norwegian Wood, it's the most emotionally direct (and, to my mind, finest) novel by a writer whose other remarkable books tend to resemble trips down the rabbit hole.
Turtle Diary is one of the great novels of middle age. Those of you not yet at that nebulous stage of life (as I wasn't, when I first read it), those of you comfortably or uncomfortably past it, don't shut the cover yet. It's a book that can help you, even if you don't think you need help. (If you've read this far, you do.) It offers solace to anyone who has ever looked at her situation in life and wondered, as one of Hoban's characters does, "Am I doomed?" (Answer: No.)
I'm going to make you need this story, do a better job of it than the one done by bookstore clerk William G., the first of the novel's two fortysomething diarists.
"Today one of those women who never know titles came into the shop. ... This one wanted a novel, 'something for a good read at the cottage.' I offered her Procurer to the King by Fallopia Bothways. Going like a bomb with the menopausal set.
She gasped, and I realized I'd actually spoken the thought aloud: 'Going like a bomb with the menopausal set.'
She went quite red. 'What did you say?' she said.
'Going like a bomb, it's the best she's written yet,' I said, and looked very dim."
In Turtle Diary, the inside slips outside, the private turns public. What ensues is often embarrassment, fumbling, and regret, but also a rekindled sense of life and emphatic, even amazing action. "I've precipitated a harmless fantasy into an active crisis," worries Neaera H., Hoban's other diarist, once she and William have decided, nearly wordlessly, to launch the turtles out of their tanks and over hundreds of miles back to the sea.
Neaera has a public face—she's a successful children's-book writer and artist—but she's as mummified by loneliness as William is. "My married friends wear Laura Ashley dresses and in their houses are grainy photographs of them barefoot on Continental beaches with their naked children," she wryly observes. "I live alone, wear odds and ends, I have resisted vegetarianism and I don't keep cats." But what friends? We never meet any of them. Interacting with one of William's coworkers, she notes, "I could feel my face not knowing what to do with itself."
She describes herself as "a more or less arty-intellectual-looking lady of forty-three," who "looks, I think, like a man's woman and hasn't got a man." When William, a divorcé, first sees her in the bookshop (an event that doesn't happen till Page 45), he pegs her as an "arty-intellectual type about my age or a little younger. ... Not at all bad-looking." But when she asks for a book about turtles, he feels a sort of magnetic repulsion: "I don't really want to talk to a woman who's accumulated the sort of things in her head that I have in mine." Look at all the lonely people.
It takes more entries still before these two skeptical, cautious souls establish, almost telepathically, that they've both been fixated on the captive turtles. ("Had I in fact said it? That first day at lunch I'd talked in code, talked about hauling bananas. Had I ever said turtles?") They join forces, and both lives change. "I didn't know how lonely I'd been until the loneliness stopped," one of them notes.