The End of Pens
Is handwriting worth saving?
I once wrote a story about the value of hand-drawn maps, which, like handwriting, are endangered by technology. Why draw your pal a route to the library when he can just look it up on his phone? Cartographers argue, however, that hand-drawn maps are often much more sophisticated than computer generated ones, which fail to organize the information they contain in any useful way. A hand-drawn map can compress the scale of uneventful portions of the trip (drive 400 miles on I-95) and zoom in on tricky ones (here's how to avoid that toll in Delaware) in ways that computers are just learning to mimic.
I am not sure, though, that there's a similar case to be made for the utility of handwriting. It is simply not the clearest way to communicate if expressing what you mean swiftly, and being understood, is your primary purpose.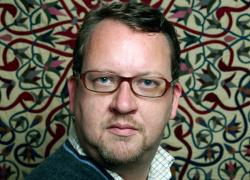 Which means the only case for handwriting, at this point, is the nostalgic one—and it is not without merit. There remains something wonderful about receiving a letter that has been physically touched—actually crafted—by the hands of your correspondent. Perhaps the same people who sell handmade whatsits on Etsy as crocheted rebukes to the digital age will soon take up calligraphy en masse—and more power to them. I will certainly keep sending hand-written notes from time to time. But let's face it: Cultivating fine handwriting is now an indulgence, a hobby for the aesthetically minded, like knitting, or decoupage. Our children must learn to write in school—but they probably don't need to write that well.
Hensher concludes his book with a plea to keep handwriting alive: "To continue to diminish the place of the handwritten in our lives," he writes, "is to diminish, in a small but real way, our humanity." But in a world where typing is dominant, perhaps our humanity will be even more apparent: We'll be judged not by our dexterity with a UniBall, but by the things we choose to say.